Meets size restrictions for carry-on luggage.

var product = { id: 2328913903701, title: "Personal-Care Sample Kit", available: true, handle: "personal-care-sample-kit", description: "Try samples of all Lifekind® Naturally Safer® personal-care products in one kit:\nBath Soak (2.5 oz.)\nCastile Soap (1 oz.)\nOatmeal Lavender Soap (1 oz.)\nLiquid Soap (1 oz.)\nLavender Lotion with MSM (1 oz.)\nUnscented Lotion with MSM (1 oz.)\nShampoo with MSM (1 oz.)\nConditioner with MSM (1 oz.)", type: "Personal Care", tags: ["Bath","Body","Hair Care","Home","Kit","Lotion","No Returns","Soap","Spa"], options_with_values: [{"name":"Title","position":1,"values":["Default Title"]}], featured_media: { alt: "Personal-Care Sample Kit", src: "\/\/lifekind.com\/cdn\/shop\/products\/Personal_Care_Samples-ALL.jpg?v=1546634571", img_url: "\/\/lifekind.com\/cdn\/shop\/products\/Personal_Care_Samples-ALL_{width}x.jpg?v=1546634571" }, url: "\/collections\/hair-care\/products\/personal-care-sample-kit", mf: { } }; var variants = []; var variant = { id: 21074511822933, available: true, options: ["Default Title"], option1: "Default Title", option2: null, option3: null, price: 1995, compare_price: null, media: { alt: null, src: null, position: null, img_url: "\/\/lifekind.com\/cdn\/shopifycloud\/shopify\/assets\/no-image-50-3d8cc48bd078edcd544c8d60f929ed2d8800a3fc52e0f602e84b1767e392bfcd_{width}x.gif", hover_img_url: "\/\/lifekind.com\/cdn\/shopifycloud\/shopify\/assets\/no-image-50-3d8cc48bd078edcd544c8d60f929ed2d8800a3fc52e0f602e84b1767e392bfcd_{width}x.gif" }, price_html: "\n\u003cdiv class=\"price\"\u003e\n \u003cdiv class=\"price__container\"\u003e\u003cdiv class=\"price__regular\"\u003e\n \u003cspan class=\"visually-hidden visually-hidden--inline\"\u003eRegular price\u003c\/span\u003e\n \u003cspan class=\"price-item price-item--regular\"\u003e\n $19.95\n \u003c\/span\u003e\n \u003c\/div\u003e\n \u003cdiv class=\"price__sale\"\u003e\n \u003cdiv\u003e\n \u003cspan\u003ewas\u003c\/span\u003e\n \u003cspan class=\"visually-hidden visually-hidden--inline\"\u003eRegular price\u003c\/span\u003e\n \u003cspan\u003e\n \u003cs class=\"price-item price-item--regular\"\u003e\n \n \n \n \u003c\/s\u003e\n \u003c\/span\u003e\u003c\/div\u003e\n \u003cdiv\u003e\n \u003cspan\u003enow\u003c\/span\u003e\n \u003cspan class=\"visually-hidden visually-hidden--inline\"\u003eSale price\u003c\/span\u003e\n \u003cspan class=\"price-item price-item--sale price-item--last\"\u003e\n $19.95\n \u003c\/span\u003e\n \u003c\/div\u003e\n \u003c\/div\u003e\n \u003csmall class=\"unit-price caption hidden\"\u003e\n \u003cspan class=\"visually-hidden\"\u003eUnit price\u003c\/span\u003e\n \u003cspan class=\"price-item price-item--last\"\u003e\n \u003cspan\u003e\u003c\/span\u003e\n \u003cspan aria-hidden=\"true\"\u003e\/\u003c\/span\u003e\n \u003cspan class=\"visually-hidden\"\u003e\u0026nbsp;per\u0026nbsp;\u003c\/span\u003e\n \u003cspan\u003e\n \u003c\/span\u003e\n \u003c\/span\u003e\n \u003c\/small\u003e\n \u003c\/div\u003e\u003c\/div\u003e\n\n", mf: { } }; product.selected_variant = variant; variants.push(variant); product.variants = variants;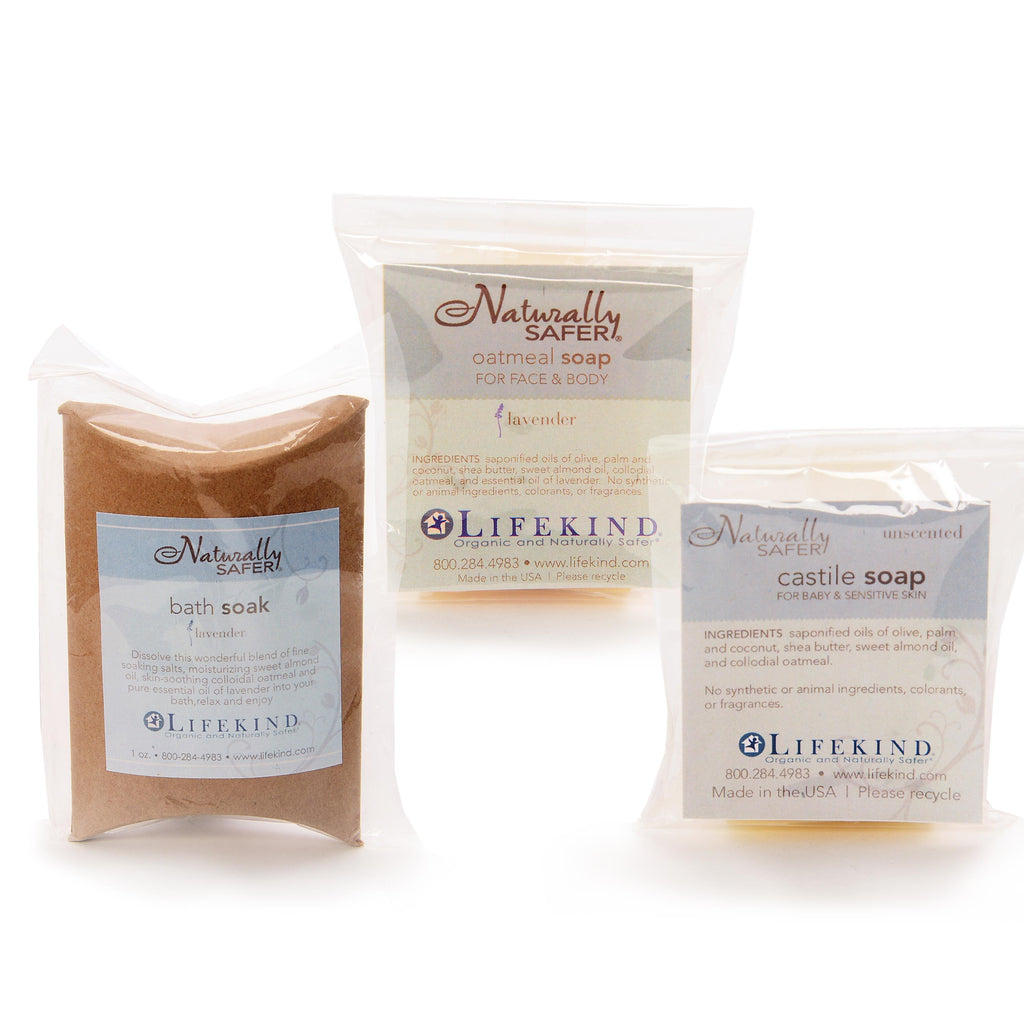 Specifications
Details

Try samples of all Lifekind® Naturally Safer® personal-care products in one kit:

Bath Soak (2.5 oz.)

Castile Soap (1 oz.)

Oatmeal Lavender Soap (1 oz.)

Liquid Soap (1 oz.)

Lavender Lotion with MSM (1 oz.)

Unscented Lotion with MSM (1 oz.)

Shampoo with MSM (1 oz.)

Conditioner with MSM (1 oz.)
FAQs
Is there an option to pay over time?

When checking out with Shop Pay, you now have the option to pay now or later. Paying in installments on Shop Pay allows you to split your purchase amount into flexible installment payments.* Your first payment is due when you make your purchase.

*Payment options are offered by Affirm and are subject to eligibility check and might not be available in all states. California residents: Affirm Loan Services, LLC is licensed by the Department of Business Oversight. Loans are made or arranged pursuant to California Financing Law license.
Do you offer free shipping?

Qualifying orders ship free to residential addresses within the continental US. Visit the cart page to see if your order qualifies for free shipping.
What is your return policy?

Please read our policy

here

.
Let customers speak for us