Cartridge-Free Shower Dechlorinator
var product = { id: 1345702527029, title: "Cartridge-Free Shower Dechlorinator", available: true, handle: "cartridge-free-shower-dechlorinator", description: "Eco-friendly, our cartridge-free dechlorinating shower filter removes 90% or more of free chlorine for a healthier shower. This dechlorinator lasts 15-18 months. Removing chlorine from your water will relieve dry skin, make hair more manageable, and improve lathering. Designed to complement our Power Shower Head. Made in the USA.\nPower Shower Head (sold separately)\n This unique low–flow chrome shower head conserves water, yet delivers a high–power shower spray. Made of solid brass and specifically designed for use with a shower filter. Made in the USA.\n \nA Few Facts About Chlorine...\n"Chlorine is the greatest crippler and killer of modern times. While it prevented epidemics of one disease, it was creating another. The present epidemic of heart trouble, cancer and senility began after our drinking water was chlorinated." \n— Dr. J.M. Price, Saginaw Hospital \n"Cancer risk among people drinking chlorinated water is 93% higher than among those whose water does not contain chlorine."\n— U.S. Council on Environmental Quality \nThe statements above offer a sobering indictment of the effect chlorinated drinking water can have on our health. Our bodies absorb 10 times more chlorine during a 15–minute bath or shower than they do by drinking eight glasses of chlorinated tap water. During baths or showering, chlorine fumes can also spread through the house, affecting other family members. \nHot water turns to steam in the shower or bath, releasing dangerous chemicals such as hydrochloric acid and THMs (trihalomethanes). THMs are actually four chlorine byproducts: chloroform, bromoform, bromodichloromethane, and chlorodibromethane. Chlorine also combines with other chemicals to create carcinogens (cancer–causing agents), the most deadly of which is dioxin, many times more dangerous than DDT. \nRemoving chlorine from your shower or bath can safeguard against these and other serious potential health threats, including asthma, emphysema, and a variety of allergic reactions. Plus you'll notice a dramatic improvement in the softness of your hair and skin!", type: "Water Filters", tags: ["Accessory","Home","Water Dechlorinator"], options_with_values: [{"name":"Title","position":1,"values":["Default Title"]}], featured_media: { alt: "Cartridge-Free Shower Dechlorinator, latex mattress, organic latex mattress, organic mattress, lifekind latex mattress, organic mattresses, latex mattresses", src: "\/\/lifekind.com\/cdn\/shop\/products\/cartridgefreekoamazon_2.jpg?v=1540901676", img_url: "\/\/lifekind.com\/cdn\/shop\/products\/cartridgefreekoamazon_2_{width}x.jpg?v=1540901676" }, url: "\/products\/cartridge-free-shower-dechlorinator", mf: { } }; var variants = []; var variant = { id: 12325993349173, available: true, options: ["Default Title"], option1: "Default Title", option2: null, option3: null, price: 8900, compare_price: null, media: { alt: null, src: null, position: null, img_url: "\/\/lifekind.com\/cdn\/shopifycloud\/shopify\/assets\/no-image-50-3d8cc48bd078edcd544c8d60f929ed2d8800a3fc52e0f602e84b1767e392bfcd_{width}x.gif", hover_img_url: "\/\/lifekind.com\/cdn\/shopifycloud\/shopify\/assets\/no-image-50-3d8cc48bd078edcd544c8d60f929ed2d8800a3fc52e0f602e84b1767e392bfcd_{width}x.gif" }, price_html: "\n\u003cdiv class=\"price\"\u003e\n \u003cdiv class=\"price__container\"\u003e\u003cdiv class=\"price__regular\"\u003e\n \u003cspan class=\"visually-hidden visually-hidden--inline\"\u003eRegular price\u003c\/span\u003e\n \u003cspan class=\"price-item price-item--regular\"\u003e\n $89.00\n \u003c\/span\u003e\n \u003c\/div\u003e\n \u003cdiv class=\"price__sale\"\u003e\n \u003cdiv\u003e\n \u003cspan\u003ewas\u003c\/span\u003e\n \u003cspan class=\"visually-hidden visually-hidden--inline\"\u003eRegular price\u003c\/span\u003e\n \u003cspan\u003e\n \u003cs class=\"price-item price-item--regular\"\u003e\n \n \n \n \u003c\/s\u003e\n \u003c\/span\u003e\u003c\/div\u003e\n \u003cdiv\u003e\n \u003cspan\u003enow\u003c\/span\u003e\n \u003cspan class=\"visually-hidden visually-hidden--inline\"\u003eSale price\u003c\/span\u003e\n \u003cspan class=\"price-item price-item--sale price-item--last\"\u003e\n $89.00\n \u003c\/span\u003e\n \u003c\/div\u003e\n \u003c\/div\u003e\n \u003csmall class=\"unit-price caption hidden\"\u003e\n \u003cspan class=\"visually-hidden\"\u003eUnit price\u003c\/span\u003e\n \u003cspan class=\"price-item price-item--last\"\u003e\n \u003cspan\u003e\u003c\/span\u003e\n \u003cspan aria-hidden=\"true\"\u003e\/\u003c\/span\u003e\n \u003cspan class=\"visually-hidden\"\u003e\u0026nbsp;per\u0026nbsp;\u003c\/span\u003e\n \u003cspan\u003e\n \u003c\/span\u003e\n \u003c\/span\u003e\n \u003c\/small\u003e\n \u003c\/div\u003e\u003c\/div\u003e\n\n", mf: { } }; product.selected_variant = variant; variants.push(variant); product.variants = variants;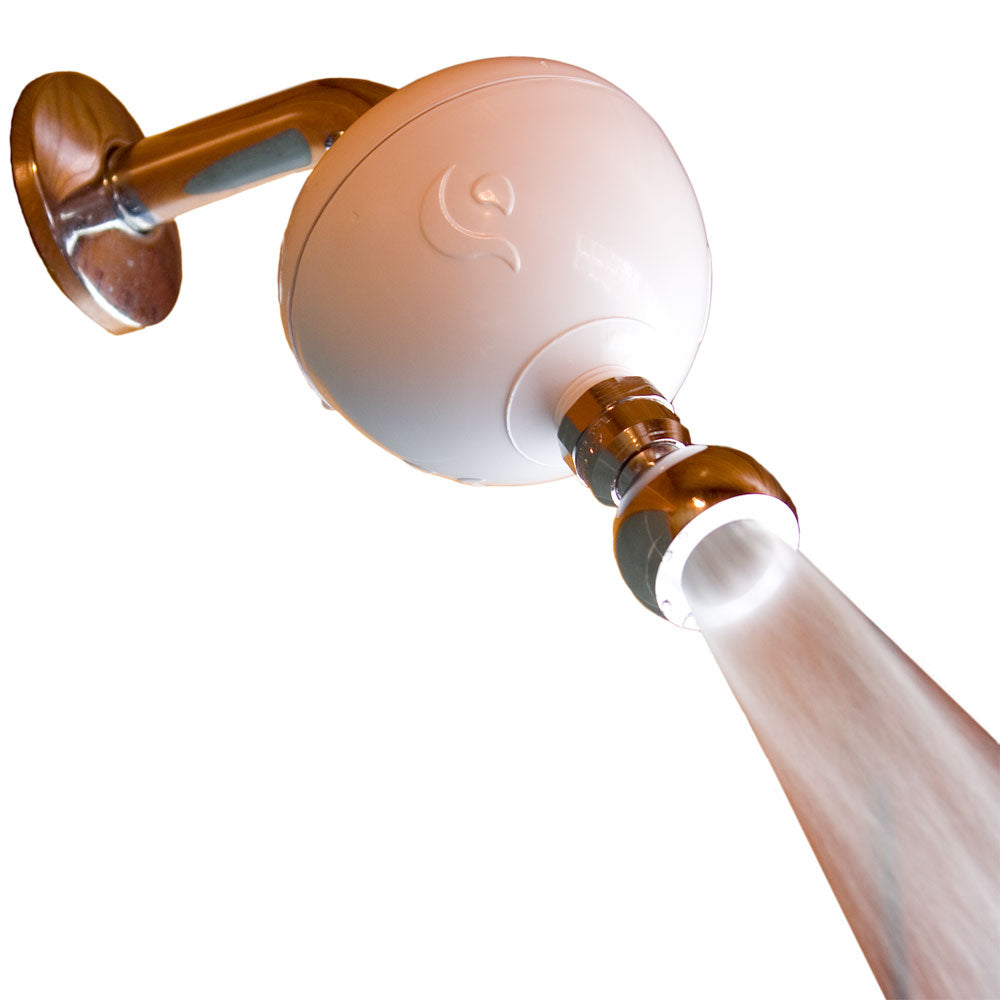 Specifications
Details

Eco-friendly, our cartridge-free dechlorinating shower filter removes 90% or more of free chlorine for a healthier shower. This dechlorinator lasts 15-18 months. Removing chlorine from your water will relieve dry skin, make hair more manageable, and improve lathering. Designed to complement our Power Shower Head. Made in the USA.

Power Shower Head (sold separately)

 This unique low–flow chrome shower head conserves water, yet delivers a high–power shower spray. Made of solid brass and specifically designed for use with a shower filter. Made in the USA.

 

A Few Facts About Chlorine...

"Chlorine is the greatest crippler and killer of modern times. While it prevented epidemics of one disease, it was creating another. The present epidemic of heart trouble, cancer and senility began after our drinking water was chlorinated." 

— Dr. J.M. Price, Saginaw Hospital 

"Cancer risk among people drinking chlorinated water is 93% higher than among those whose water does not contain chlorine."

— U.S. Council on Environmental Quality 

The statements above offer a sobering indictment of the effect chlorinated drinking water can have on our health. Our bodies absorb 10 times more chlorine during a 15–minute bath or shower than they do by drinking eight glasses of chlorinated tap water. During baths or showering, chlorine fumes can also spread through the house, affecting other family members. 

Hot water turns to steam in the shower or bath, releasing dangerous chemicals such as hydrochloric acid and THMs (trihalomethanes). THMs are actually four chlorine byproducts: chloroform, bromoform, bromodichloromethane, and chlorodibromethane. Chlorine also combines with other chemicals to create carcinogens (cancer–causing agents), the most deadly of which is dioxin, many times more dangerous than DDT. 

Removing chlorine from your shower or bath can safeguard against these and other serious potential health threats, including asthma, emphysema, and a variety of allergic reactions. Plus you'll notice a dramatic improvement in the softness of your hair and skin!
Return Policy

Unused products in new condition may be returned within 30 days of purchase, for a refund or store credit. Exceptions include mattresses, subject to the terms of our 90-day mattress comfort exchange policy, toppers, foundations and box springs, and custom-order products.

Freight charges are non refundable.

Please contact customer service before returning any merchandise, as returns require an RMA.
FAQs
Is there an option to pay over time?

When checking out with Shop Pay, you now have the option to pay now or later. Paying in installments on Shop Pay allows you to split your purchase amount into flexible installment payments.* Your first payment is due when you make your purchase.

*Payment options are offered by Affirm and are subject to eligibility check and might not be available in all states. California residents: Affirm Loan Services, LLC is licensed by the Department of Business Oversight. Loans are made or arranged pursuant to California Financing Law license.
Do you offer free shipping?

Qualifying orders ship free to residential addresses within the continental US. Visit the cart page to see if your order qualifies for free shipping.
What is your return policy?

Please read our policy

here

.
Let customers speak for us