GOTS-Certified Organic Cotton Dust-Mite & Bed-Bug Mattress Barrier Cover
Protect your family from dust mites and other unwelcome visitors.

var product = { id: 1345701740597, title: "GOTS-Certified Organic Cotton Dust-Mite \u0026 Bed-Bug Mattress Barrier Cover", available: true, handle: "certified-organic-dust-mite-bed-bug-barrier-mattress-cover", description: "**Production Delay Alert: This item will not be available until late 2023**\nProtect your family from the effects of dust-mite allergens and your organic mattress from invaders such as bed bugs. Our barrier cover is made from tightly-woven 100% certified organic cotton with a 4.5-micron pore size, and closes with a heavy-duty brass zipper. Simply remove from mattress and machine wash in hot water (cover will become softer with each washing). Unlike similar synthetic products, our sturdy, breathable organic cotton encasements offer a more healthful sleep. Available in different depths to meet your specific needs. Call for a quote. Handmade in the USA.\nThis item is made to order in our Northern California Eco-Factory™ and takes approximately 7-10 days to ship.\nAbout Dust Mites... \nAllergies caused by the fecal droppings of dust mites are the number-one trigger for asthmatics, and cause many of us to wake up sneezing or with swollen eyes. Their favorite habitat is the padding inside our beds, and their food source is our sloughed-off skin cells.\nFor best results, use our Mattress Barrier Cover when your mattress is new, before a dust-mite population settles in. Without a steady supply of skin cells, dust mites cannot survive.", type: "Bedding", tags: ["Barrier Cover","Bedding","Bestseller","Care:13","Care:2","Cotton","No Returns","Protection"], options_with_values: [{"name":"Depth","position":1,"values":["6 Inches","8 Inches","10 Inches","12 Inches"]},{"name":"Size","position":2,"values":["Crib","Twin","Twin XL","Full","Queen","Eastern King","California King"]}], featured_media: { alt: "GOTS-Certified Organic Cotton Dust-Mite \u0026 Bed-Bug Mattress Barrier Cover", src: "\/\/lifekind.com\/cdn\/shop\/products\/MattressBarrierCoverRoomScene.jpg?v=1663178942", img_url: "\/\/lifekind.com\/cdn\/shop\/products\/MattressBarrierCoverRoomScene_{width}x.jpg?v=1663178942" }, url: "\/products\/certified-organic-dust-mite-bed-bug-barrier-mattress-cover", mf: { } }; var variants = []; var variant = { id: 12325991579701, available: true, options: ["6 Inches","Crib"], option1: "6 Inches", option2: "Crib", option3: null, price: 14900, compare_price: null, media: { alt: null, src: null, position: null, img_url: "\/\/lifekind.com\/cdn\/shopifycloud\/shopify\/assets\/no-image-50-3d8cc48bd078edcd544c8d60f929ed2d8800a3fc52e0f602e84b1767e392bfcd_{width}x.gif", hover_img_url: "\/\/lifekind.com\/cdn\/shopifycloud\/shopify\/assets\/no-image-50-3d8cc48bd078edcd544c8d60f929ed2d8800a3fc52e0f602e84b1767e392bfcd_{width}x.gif" }, price_html: "\n\u003cdiv class=\"price\"\u003e\n \u003cdiv class=\"price__container\"\u003e\u003cdiv class=\"price__regular\"\u003e\n \u003cspan class=\"visually-hidden visually-hidden--inline\"\u003eRegular price\u003c\/span\u003e\n \u003cspan class=\"price-item price-item--regular\"\u003e\n $149.00\n \u003c\/span\u003e\n \u003c\/div\u003e\n \u003cdiv class=\"price__sale\"\u003e\n \u003cdiv\u003e\n \u003cspan\u003ewas\u003c\/span\u003e\n \u003cspan class=\"visually-hidden visually-hidden--inline\"\u003eRegular price\u003c\/span\u003e\n \u003cspan\u003e\n \u003cs class=\"price-item price-item--regular\"\u003e\n \n \n \n \u003c\/s\u003e\n \u003c\/span\u003e\u003c\/div\u003e\n \u003cdiv\u003e\n \u003cspan\u003enow\u003c\/span\u003e\n \u003cspan class=\"visually-hidden visually-hidden--inline\"\u003eSale price\u003c\/span\u003e\n \u003cspan class=\"price-item price-item--sale price-item--last\"\u003e\n $149.00\n \u003c\/span\u003e\n \u003c\/div\u003e\n \u003c\/div\u003e\n \u003csmall class=\"unit-price caption hidden\"\u003e\n \u003cspan class=\"visually-hidden\"\u003eUnit price\u003c\/span\u003e\n \u003cspan class=\"price-item price-item--last\"\u003e\n \u003cspan\u003e\u003c\/span\u003e\n \u003cspan aria-hidden=\"true\"\u003e\/\u003c\/span\u003e\n \u003cspan class=\"visually-hidden\"\u003e\u0026nbsp;per\u0026nbsp;\u003c\/span\u003e\n \u003cspan\u003e\n \u003c\/span\u003e\n \u003c\/span\u003e\n \u003c\/small\u003e\n \u003c\/div\u003e\u003c\/div\u003e\n\n", mf: { } }; product.selected_variant = variant; variants.push(variant); var variant = { id: 12325991612469, available: false, options: ["6 Inches","Twin"], option1: "6 Inches", option2: "Twin", option3: null, price: 23900, compare_price: null, media: { alt: null, src: null, position: null, img_url: "\/\/lifekind.com\/cdn\/shopifycloud\/shopify\/assets\/no-image-50-3d8cc48bd078edcd544c8d60f929ed2d8800a3fc52e0f602e84b1767e392bfcd_{width}x.gif", hover_img_url: "\/\/lifekind.com\/cdn\/shopifycloud\/shopify\/assets\/no-image-50-3d8cc48bd078edcd544c8d60f929ed2d8800a3fc52e0f602e84b1767e392bfcd_{width}x.gif" }, price_html: "\n\u003cdiv class=\"price price--sold-out \"\u003e\n \u003cdiv class=\"price__container\"\u003e\u003cdiv class=\"price__regular\"\u003e\n \u003cspan class=\"visually-hidden visually-hidden--inline\"\u003eRegular price\u003c\/span\u003e\n \u003cspan class=\"price-item price-item--regular\"\u003e\n $239.00\n \u003c\/span\u003e\n \u003c\/div\u003e\n \u003cdiv class=\"price__sale\"\u003e\n \u003cdiv\u003e\n \u003cspan\u003ewas\u003c\/span\u003e\n \u003cspan class=\"visually-hidden visually-hidden--inline\"\u003eRegular price\u003c\/span\u003e\n \u003cspan\u003e\n \u003cs class=\"price-item price-item--regular\"\u003e\n \n \n \n \u003c\/s\u003e\n \u003c\/span\u003e\u003c\/div\u003e\n \u003cdiv\u003e\n \u003cspan\u003enow\u003c\/span\u003e\n \u003cspan class=\"visually-hidden visually-hidden--inline\"\u003eSale price\u003c\/span\u003e\n \u003cspan class=\"price-item price-item--sale price-item--last\"\u003e\n $239.00\n \u003c\/span\u003e\n \u003c\/div\u003e\n \u003c\/div\u003e\n \u003csmall class=\"unit-price caption hidden\"\u003e\n \u003cspan class=\"visually-hidden\"\u003eUnit price\u003c\/span\u003e\n \u003cspan class=\"price-item price-item--last\"\u003e\n \u003cspan\u003e\u003c\/span\u003e\n \u003cspan aria-hidden=\"true\"\u003e\/\u003c\/span\u003e\n \u003cspan class=\"visually-hidden\"\u003e\u0026nbsp;per\u0026nbsp;\u003c\/span\u003e\n \u003cspan\u003e\n \u003c\/span\u003e\n \u003c\/span\u003e\n \u003c\/small\u003e\n \u003c\/div\u003e\u003c\/div\u003e\n\n", mf: { } }; variants.push(variant); var variant = { id: 12325991645237, available: false, options: ["6 Inches","Twin XL"], option1: "6 Inches", option2: "Twin XL", option3: null, price: 24900, compare_price: null, media: { alt: null, src: null, position: null, img_url: "\/\/lifekind.com\/cdn\/shopifycloud\/shopify\/assets\/no-image-50-3d8cc48bd078edcd544c8d60f929ed2d8800a3fc52e0f602e84b1767e392bfcd_{width}x.gif", hover_img_url: "\/\/lifekind.com\/cdn\/shopifycloud\/shopify\/assets\/no-image-50-3d8cc48bd078edcd544c8d60f929ed2d8800a3fc52e0f602e84b1767e392bfcd_{width}x.gif" }, price_html: "\n\u003cdiv class=\"price price--sold-out \"\u003e\n \u003cdiv class=\"price__container\"\u003e\u003cdiv class=\"price__regular\"\u003e\n \u003cspan class=\"visually-hidden visually-hidden--inline\"\u003eRegular price\u003c\/span\u003e\n \u003cspan class=\"price-item price-item--regular\"\u003e\n $249.00\n \u003c\/span\u003e\n \u003c\/div\u003e\n \u003cdiv class=\"price__sale\"\u003e\n \u003cdiv\u003e\n \u003cspan\u003ewas\u003c\/span\u003e\n \u003cspan class=\"visually-hidden visually-hidden--inline\"\u003eRegular price\u003c\/span\u003e\n \u003cspan\u003e\n \u003cs class=\"price-item price-item--regular\"\u003e\n \n \n \n \u003c\/s\u003e\n \u003c\/span\u003e\u003c\/div\u003e\n \u003cdiv\u003e\n \u003cspan\u003enow\u003c\/span\u003e\n \u003cspan class=\"visually-hidden visually-hidden--inline\"\u003eSale price\u003c\/span\u003e\n \u003cspan class=\"price-item price-item--sale price-item--last\"\u003e\n $249.00\n \u003c\/span\u003e\n \u003c\/div\u003e\n \u003c\/div\u003e\n \u003csmall class=\"unit-price caption hidden\"\u003e\n \u003cspan class=\"visually-hidden\"\u003eUnit price\u003c\/span\u003e\n \u003cspan class=\"price-item price-item--last\"\u003e\n \u003cspan\u003e\u003c\/span\u003e\n \u003cspan aria-hidden=\"true\"\u003e\/\u003c\/span\u003e\n \u003cspan class=\"visually-hidden\"\u003e\u0026nbsp;per\u0026nbsp;\u003c\/span\u003e\n \u003cspan\u003e\n \u003c\/span\u003e\n \u003c\/span\u003e\n \u003c\/small\u003e\n \u003c\/div\u003e\u003c\/div\u003e\n\n", mf: { } }; variants.push(variant); var variant = { id: 12325991678005, available: false, options: ["6 Inches","Full"], option1: "6 Inches", option2: "Full", option3: null, price: 31900, compare_price: null, media: { alt: null, src: null, position: null, img_url: "\/\/lifekind.com\/cdn\/shopifycloud\/shopify\/assets\/no-image-50-3d8cc48bd078edcd544c8d60f929ed2d8800a3fc52e0f602e84b1767e392bfcd_{width}x.gif", hover_img_url: "\/\/lifekind.com\/cdn\/shopifycloud\/shopify\/assets\/no-image-50-3d8cc48bd078edcd544c8d60f929ed2d8800a3fc52e0f602e84b1767e392bfcd_{width}x.gif" }, price_html: "\n\u003cdiv class=\"price price--sold-out \"\u003e\n \u003cdiv class=\"price__container\"\u003e\u003cdiv class=\"price__regular\"\u003e\n \u003cspan class=\"visually-hidden visually-hidden--inline\"\u003eRegular price\u003c\/span\u003e\n \u003cspan class=\"price-item price-item--regular\"\u003e\n $319.00\n \u003c\/span\u003e\n \u003c\/div\u003e\n \u003cdiv class=\"price__sale\"\u003e\n \u003cdiv\u003e\n \u003cspan\u003ewas\u003c\/span\u003e\n \u003cspan class=\"visually-hidden visually-hidden--inline\"\u003eRegular price\u003c\/span\u003e\n \u003cspan\u003e\n \u003cs class=\"price-item price-item--regular\"\u003e\n \n \n \n \u003c\/s\u003e\n \u003c\/span\u003e\u003c\/div\u003e\n \u003cdiv\u003e\n \u003cspan\u003enow\u003c\/span\u003e\n \u003cspan class=\"visually-hidden visually-hidden--inline\"\u003eSale price\u003c\/span\u003e\n \u003cspan class=\"price-item price-item--sale price-item--last\"\u003e\n $319.00\n \u003c\/span\u003e\n \u003c\/div\u003e\n \u003c\/div\u003e\n \u003csmall class=\"unit-price caption hidden\"\u003e\n \u003cspan class=\"visually-hidden\"\u003eUnit price\u003c\/span\u003e\n \u003cspan class=\"price-item price-item--last\"\u003e\n \u003cspan\u003e\u003c\/span\u003e\n \u003cspan aria-hidden=\"true\"\u003e\/\u003c\/span\u003e\n \u003cspan class=\"visually-hidden\"\u003e\u0026nbsp;per\u0026nbsp;\u003c\/span\u003e\n \u003cspan\u003e\n \u003c\/span\u003e\n \u003c\/span\u003e\n \u003c\/small\u003e\n \u003c\/div\u003e\u003c\/div\u003e\n\n", mf: { } }; variants.push(variant); var variant = { id: 12325991710773, available: false, options: ["6 Inches","Queen"], option1: "6 Inches", option2: "Queen", option3: null, price: 34900, compare_price: null, media: { alt: null, src: null, position: null, img_url: "\/\/lifekind.com\/cdn\/shopifycloud\/shopify\/assets\/no-image-50-3d8cc48bd078edcd544c8d60f929ed2d8800a3fc52e0f602e84b1767e392bfcd_{width}x.gif", hover_img_url: "\/\/lifekind.com\/cdn\/shopifycloud\/shopify\/assets\/no-image-50-3d8cc48bd078edcd544c8d60f929ed2d8800a3fc52e0f602e84b1767e392bfcd_{width}x.gif" }, price_html: "\n\u003cdiv class=\"price price--sold-out \"\u003e\n \u003cdiv class=\"price__container\"\u003e\u003cdiv class=\"price__regular\"\u003e\n \u003cspan class=\"visually-hidden visually-hidden--inline\"\u003eRegular price\u003c\/span\u003e\n \u003cspan class=\"price-item price-item--regular\"\u003e\n $349.00\n \u003c\/span\u003e\n \u003c\/div\u003e\n \u003cdiv class=\"price__sale\"\u003e\n \u003cdiv\u003e\n \u003cspan\u003ewas\u003c\/span\u003e\n \u003cspan class=\"visually-hidden visually-hidden--inline\"\u003eRegular price\u003c\/span\u003e\n \u003cspan\u003e\n \u003cs class=\"price-item price-item--regular\"\u003e\n \n \n \n \u003c\/s\u003e\n \u003c\/span\u003e\u003c\/div\u003e\n \u003cdiv\u003e\n \u003cspan\u003enow\u003c\/span\u003e\n \u003cspan class=\"visually-hidden visually-hidden--inline\"\u003eSale price\u003c\/span\u003e\n \u003cspan class=\"price-item price-item--sale price-item--last\"\u003e\n $349.00\n \u003c\/span\u003e\n \u003c\/div\u003e\n \u003c\/div\u003e\n \u003csmall class=\"unit-price caption hidden\"\u003e\n \u003cspan class=\"visually-hidden\"\u003eUnit price\u003c\/span\u003e\n \u003cspan class=\"price-item price-item--last\"\u003e\n \u003cspan\u003e\u003c\/span\u003e\n \u003cspan aria-hidden=\"true\"\u003e\/\u003c\/span\u003e\n \u003cspan class=\"visually-hidden\"\u003e\u0026nbsp;per\u0026nbsp;\u003c\/span\u003e\n \u003cspan\u003e\n \u003c\/span\u003e\n \u003c\/span\u003e\n \u003c\/small\u003e\n \u003c\/div\u003e\u003c\/div\u003e\n\n", mf: { } }; variants.push(variant); var variant = { id: 12325991743541, available: false, options: ["6 Inches","Eastern King"], option1: "6 Inches", option2: "Eastern King", option3: null, price: 42900, compare_price: null, media: { alt: null, src: null, position: null, img_url: "\/\/lifekind.com\/cdn\/shopifycloud\/shopify\/assets\/no-image-50-3d8cc48bd078edcd544c8d60f929ed2d8800a3fc52e0f602e84b1767e392bfcd_{width}x.gif", hover_img_url: "\/\/lifekind.com\/cdn\/shopifycloud\/shopify\/assets\/no-image-50-3d8cc48bd078edcd544c8d60f929ed2d8800a3fc52e0f602e84b1767e392bfcd_{width}x.gif" }, price_html: "\n\u003cdiv class=\"price price--sold-out \"\u003e\n \u003cdiv class=\"price__container\"\u003e\u003cdiv class=\"price__regular\"\u003e\n \u003cspan class=\"visually-hidden visually-hidden--inline\"\u003eRegular price\u003c\/span\u003e\n \u003cspan class=\"price-item price-item--regular\"\u003e\n $429.00\n \u003c\/span\u003e\n \u003c\/div\u003e\n \u003cdiv class=\"price__sale\"\u003e\n \u003cdiv\u003e\n \u003cspan\u003ewas\u003c\/span\u003e\n \u003cspan class=\"visually-hidden visually-hidden--inline\"\u003eRegular price\u003c\/span\u003e\n \u003cspan\u003e\n \u003cs class=\"price-item price-item--regular\"\u003e\n \n \n \n \u003c\/s\u003e\n \u003c\/span\u003e\u003c\/div\u003e\n \u003cdiv\u003e\n \u003cspan\u003enow\u003c\/span\u003e\n \u003cspan class=\"visually-hidden visually-hidden--inline\"\u003eSale price\u003c\/span\u003e\n \u003cspan class=\"price-item price-item--sale price-item--last\"\u003e\n $429.00\n \u003c\/span\u003e\n \u003c\/div\u003e\n \u003c\/div\u003e\n \u003csmall class=\"unit-price caption hidden\"\u003e\n \u003cspan class=\"visually-hidden\"\u003eUnit price\u003c\/span\u003e\n \u003cspan class=\"price-item price-item--last\"\u003e\n \u003cspan\u003e\u003c\/span\u003e\n \u003cspan aria-hidden=\"true\"\u003e\/\u003c\/span\u003e\n \u003cspan class=\"visually-hidden\"\u003e\u0026nbsp;per\u0026nbsp;\u003c\/span\u003e\n \u003cspan\u003e\n \u003c\/span\u003e\n \u003c\/span\u003e\n \u003c\/small\u003e\n \u003c\/div\u003e\u003c\/div\u003e\n\n", mf: { } }; variants.push(variant); var variant = { id: 12325991776309, available: false, options: ["6 Inches","California King"], option1: "6 Inches", option2: "California King", option3: null, price: 42900, compare_price: null, media: { alt: null, src: null, position: null, img_url: "\/\/lifekind.com\/cdn\/shopifycloud\/shopify\/assets\/no-image-50-3d8cc48bd078edcd544c8d60f929ed2d8800a3fc52e0f602e84b1767e392bfcd_{width}x.gif", hover_img_url: "\/\/lifekind.com\/cdn\/shopifycloud\/shopify\/assets\/no-image-50-3d8cc48bd078edcd544c8d60f929ed2d8800a3fc52e0f602e84b1767e392bfcd_{width}x.gif" }, price_html: "\n\u003cdiv class=\"price price--sold-out \"\u003e\n \u003cdiv class=\"price__container\"\u003e\u003cdiv class=\"price__regular\"\u003e\n \u003cspan class=\"visually-hidden visually-hidden--inline\"\u003eRegular price\u003c\/span\u003e\n \u003cspan class=\"price-item price-item--regular\"\u003e\n $429.00\n \u003c\/span\u003e\n \u003c\/div\u003e\n \u003cdiv class=\"price__sale\"\u003e\n \u003cdiv\u003e\n \u003cspan\u003ewas\u003c\/span\u003e\n \u003cspan class=\"visually-hidden visually-hidden--inline\"\u003eRegular price\u003c\/span\u003e\n \u003cspan\u003e\n \u003cs class=\"price-item price-item--regular\"\u003e\n \n \n \n \u003c\/s\u003e\n \u003c\/span\u003e\u003c\/div\u003e\n \u003cdiv\u003e\n \u003cspan\u003enow\u003c\/span\u003e\n \u003cspan class=\"visually-hidden visually-hidden--inline\"\u003eSale price\u003c\/span\u003e\n \u003cspan class=\"price-item price-item--sale price-item--last\"\u003e\n $429.00\n \u003c\/span\u003e\n \u003c\/div\u003e\n \u003c\/div\u003e\n \u003csmall class=\"unit-price caption hidden\"\u003e\n \u003cspan class=\"visually-hidden\"\u003eUnit price\u003c\/span\u003e\n \u003cspan class=\"price-item price-item--last\"\u003e\n \u003cspan\u003e\u003c\/span\u003e\n \u003cspan aria-hidden=\"true\"\u003e\/\u003c\/span\u003e\n \u003cspan class=\"visually-hidden\"\u003e\u0026nbsp;per\u0026nbsp;\u003c\/span\u003e\n \u003cspan\u003e\n \u003c\/span\u003e\n \u003c\/span\u003e\n \u003c\/small\u003e\n \u003c\/div\u003e\u003c\/div\u003e\n\n", mf: { } }; variants.push(variant); var variant = { id: 12325991972917, available: false, options: ["8 Inches","Twin"], option1: "8 Inches", option2: "Twin", option3: null, price: 23900, compare_price: null, media: { alt: null, src: null, position: null, img_url: "\/\/lifekind.com\/cdn\/shopifycloud\/shopify\/assets\/no-image-50-3d8cc48bd078edcd544c8d60f929ed2d8800a3fc52e0f602e84b1767e392bfcd_{width}x.gif", hover_img_url: "\/\/lifekind.com\/cdn\/shopifycloud\/shopify\/assets\/no-image-50-3d8cc48bd078edcd544c8d60f929ed2d8800a3fc52e0f602e84b1767e392bfcd_{width}x.gif" }, price_html: "\n\u003cdiv class=\"price price--sold-out \"\u003e\n \u003cdiv class=\"price__container\"\u003e\u003cdiv class=\"price__regular\"\u003e\n \u003cspan class=\"visually-hidden visually-hidden--inline\"\u003eRegular price\u003c\/span\u003e\n \u003cspan class=\"price-item price-item--regular\"\u003e\n $239.00\n \u003c\/span\u003e\n \u003c\/div\u003e\n \u003cdiv class=\"price__sale\"\u003e\n \u003cdiv\u003e\n \u003cspan\u003ewas\u003c\/span\u003e\n \u003cspan class=\"visually-hidden visually-hidden--inline\"\u003eRegular price\u003c\/span\u003e\n \u003cspan\u003e\n \u003cs class=\"price-item price-item--regular\"\u003e\n \n \n \n \u003c\/s\u003e\n \u003c\/span\u003e\u003c\/div\u003e\n \u003cdiv\u003e\n \u003cspan\u003enow\u003c\/span\u003e\n \u003cspan class=\"visually-hidden visually-hidden--inline\"\u003eSale price\u003c\/span\u003e\n \u003cspan class=\"price-item price-item--sale price-item--last\"\u003e\n $239.00\n \u003c\/span\u003e\n \u003c\/div\u003e\n \u003c\/div\u003e\n \u003csmall class=\"unit-price caption hidden\"\u003e\n \u003cspan class=\"visually-hidden\"\u003eUnit price\u003c\/span\u003e\n \u003cspan class=\"price-item price-item--last\"\u003e\n \u003cspan\u003e\u003c\/span\u003e\n \u003cspan aria-hidden=\"true\"\u003e\/\u003c\/span\u003e\n \u003cspan class=\"visually-hidden\"\u003e\u0026nbsp;per\u0026nbsp;\u003c\/span\u003e\n \u003cspan\u003e\n \u003c\/span\u003e\n \u003c\/span\u003e\n \u003c\/small\u003e\n \u003c\/div\u003e\u003c\/div\u003e\n\n", mf: { } }; variants.push(variant); var variant = { id: 12325991940149, available: false, options: ["8 Inches","Twin XL"], option1: "8 Inches", option2: "Twin XL", option3: null, price: 24900, compare_price: null, media: { alt: null, src: null, position: null, img_url: "\/\/lifekind.com\/cdn\/shopifycloud\/shopify\/assets\/no-image-50-3d8cc48bd078edcd544c8d60f929ed2d8800a3fc52e0f602e84b1767e392bfcd_{width}x.gif", hover_img_url: "\/\/lifekind.com\/cdn\/shopifycloud\/shopify\/assets\/no-image-50-3d8cc48bd078edcd544c8d60f929ed2d8800a3fc52e0f602e84b1767e392bfcd_{width}x.gif" }, price_html: "\n\u003cdiv class=\"price price--sold-out \"\u003e\n \u003cdiv class=\"price__container\"\u003e\u003cdiv class=\"price__regular\"\u003e\n \u003cspan class=\"visually-hidden visually-hidden--inline\"\u003eRegular price\u003c\/span\u003e\n \u003cspan class=\"price-item price-item--regular\"\u003e\n $249.00\n \u003c\/span\u003e\n \u003c\/div\u003e\n \u003cdiv class=\"price__sale\"\u003e\n \u003cdiv\u003e\n \u003cspan\u003ewas\u003c\/span\u003e\n \u003cspan class=\"visually-hidden visually-hidden--inline\"\u003eRegular price\u003c\/span\u003e\n \u003cspan\u003e\n \u003cs class=\"price-item price-item--regular\"\u003e\n \n \n \n \u003c\/s\u003e\n \u003c\/span\u003e\u003c\/div\u003e\n \u003cdiv\u003e\n \u003cspan\u003enow\u003c\/span\u003e\n \u003cspan class=\"visually-hidden visually-hidden--inline\"\u003eSale price\u003c\/span\u003e\n \u003cspan class=\"price-item price-item--sale price-item--last\"\u003e\n $249.00\n \u003c\/span\u003e\n \u003c\/div\u003e\n \u003c\/div\u003e\n \u003csmall class=\"unit-price caption hidden\"\u003e\n \u003cspan class=\"visually-hidden\"\u003eUnit price\u003c\/span\u003e\n \u003cspan class=\"price-item price-item--last\"\u003e\n \u003cspan\u003e\u003c\/span\u003e\n \u003cspan aria-hidden=\"true\"\u003e\/\u003c\/span\u003e\n \u003cspan class=\"visually-hidden\"\u003e\u0026nbsp;per\u0026nbsp;\u003c\/span\u003e\n \u003cspan\u003e\n \u003c\/span\u003e\n \u003c\/span\u003e\n \u003c\/small\u003e\n \u003c\/div\u003e\u003c\/div\u003e\n\n", mf: { } }; variants.push(variant); var variant = { id: 12325991907381, available: false, options: ["8 Inches","Full"], option1: "8 Inches", option2: "Full", option3: null, price: 31900, compare_price: null, media: { alt: null, src: null, position: null, img_url: "\/\/lifekind.com\/cdn\/shopifycloud\/shopify\/assets\/no-image-50-3d8cc48bd078edcd544c8d60f929ed2d8800a3fc52e0f602e84b1767e392bfcd_{width}x.gif", hover_img_url: "\/\/lifekind.com\/cdn\/shopifycloud\/shopify\/assets\/no-image-50-3d8cc48bd078edcd544c8d60f929ed2d8800a3fc52e0f602e84b1767e392bfcd_{width}x.gif" }, price_html: "\n\u003cdiv class=\"price price--sold-out \"\u003e\n \u003cdiv class=\"price__container\"\u003e\u003cdiv class=\"price__regular\"\u003e\n \u003cspan class=\"visually-hidden visually-hidden--inline\"\u003eRegular price\u003c\/span\u003e\n \u003cspan class=\"price-item price-item--regular\"\u003e\n $319.00\n \u003c\/span\u003e\n \u003c\/div\u003e\n \u003cdiv class=\"price__sale\"\u003e\n \u003cdiv\u003e\n \u003cspan\u003ewas\u003c\/span\u003e\n \u003cspan class=\"visually-hidden visually-hidden--inline\"\u003eRegular price\u003c\/span\u003e\n \u003cspan\u003e\n \u003cs class=\"price-item price-item--regular\"\u003e\n \n \n \n \u003c\/s\u003e\n \u003c\/span\u003e\u003c\/div\u003e\n \u003cdiv\u003e\n \u003cspan\u003enow\u003c\/span\u003e\n \u003cspan class=\"visually-hidden visually-hidden--inline\"\u003eSale price\u003c\/span\u003e\n \u003cspan class=\"price-item price-item--sale price-item--last\"\u003e\n $319.00\n \u003c\/span\u003e\n \u003c\/div\u003e\n \u003c\/div\u003e\n \u003csmall class=\"unit-price caption hidden\"\u003e\n \u003cspan class=\"visually-hidden\"\u003eUnit price\u003c\/span\u003e\n \u003cspan class=\"price-item price-item--last\"\u003e\n \u003cspan\u003e\u003c\/span\u003e\n \u003cspan aria-hidden=\"true\"\u003e\/\u003c\/span\u003e\n \u003cspan class=\"visually-hidden\"\u003e\u0026nbsp;per\u0026nbsp;\u003c\/span\u003e\n \u003cspan\u003e\n \u003c\/span\u003e\n \u003c\/span\u003e\n \u003c\/small\u003e\n \u003c\/div\u003e\u003c\/div\u003e\n\n", mf: { } }; variants.push(variant); var variant = { id: 12325991874613, available: false, options: ["8 Inches","Queen"], option1: "8 Inches", option2: "Queen", option3: null, price: 34900, compare_price: null, media: { alt: null, src: null, position: null, img_url: "\/\/lifekind.com\/cdn\/shopifycloud\/shopify\/assets\/no-image-50-3d8cc48bd078edcd544c8d60f929ed2d8800a3fc52e0f602e84b1767e392bfcd_{width}x.gif", hover_img_url: "\/\/lifekind.com\/cdn\/shopifycloud\/shopify\/assets\/no-image-50-3d8cc48bd078edcd544c8d60f929ed2d8800a3fc52e0f602e84b1767e392bfcd_{width}x.gif" }, price_html: "\n\u003cdiv class=\"price price--sold-out \"\u003e\n \u003cdiv class=\"price__container\"\u003e\u003cdiv class=\"price__regular\"\u003e\n \u003cspan class=\"visually-hidden visually-hidden--inline\"\u003eRegular price\u003c\/span\u003e\n \u003cspan class=\"price-item price-item--regular\"\u003e\n $349.00\n \u003c\/span\u003e\n \u003c\/div\u003e\n \u003cdiv class=\"price__sale\"\u003e\n \u003cdiv\u003e\n \u003cspan\u003ewas\u003c\/span\u003e\n \u003cspan class=\"visually-hidden visually-hidden--inline\"\u003eRegular price\u003c\/span\u003e\n \u003cspan\u003e\n \u003cs class=\"price-item price-item--regular\"\u003e\n \n \n \n \u003c\/s\u003e\n \u003c\/span\u003e\u003c\/div\u003e\n \u003cdiv\u003e\n \u003cspan\u003enow\u003c\/span\u003e\n \u003cspan class=\"visually-hidden visually-hidden--inline\"\u003eSale price\u003c\/span\u003e\n \u003cspan class=\"price-item price-item--sale price-item--last\"\u003e\n $349.00\n \u003c\/span\u003e\n \u003c\/div\u003e\n \u003c\/div\u003e\n \u003csmall class=\"unit-price caption hidden\"\u003e\n \u003cspan class=\"visually-hidden\"\u003eUnit price\u003c\/span\u003e\n \u003cspan class=\"price-item price-item--last\"\u003e\n \u003cspan\u003e\u003c\/span\u003e\n \u003cspan aria-hidden=\"true\"\u003e\/\u003c\/span\u003e\n \u003cspan class=\"visually-hidden\"\u003e\u0026nbsp;per\u0026nbsp;\u003c\/span\u003e\n \u003cspan\u003e\n \u003c\/span\u003e\n \u003c\/span\u003e\n \u003c\/small\u003e\n \u003c\/div\u003e\u003c\/div\u003e\n\n", mf: { } }; variants.push(variant); var variant = { id: 12325991841845, available: false, options: ["8 Inches","Eastern King"], option1: "8 Inches", option2: "Eastern King", option3: null, price: 42900, compare_price: null, media: { alt: null, src: null, position: null, img_url: "\/\/lifekind.com\/cdn\/shopifycloud\/shopify\/assets\/no-image-50-3d8cc48bd078edcd544c8d60f929ed2d8800a3fc52e0f602e84b1767e392bfcd_{width}x.gif", hover_img_url: "\/\/lifekind.com\/cdn\/shopifycloud\/shopify\/assets\/no-image-50-3d8cc48bd078edcd544c8d60f929ed2d8800a3fc52e0f602e84b1767e392bfcd_{width}x.gif" }, price_html: "\n\u003cdiv class=\"price price--sold-out \"\u003e\n \u003cdiv class=\"price__container\"\u003e\u003cdiv class=\"price__regular\"\u003e\n \u003cspan class=\"visually-hidden visually-hidden--inline\"\u003eRegular price\u003c\/span\u003e\n \u003cspan class=\"price-item price-item--regular\"\u003e\n $429.00\n \u003c\/span\u003e\n \u003c\/div\u003e\n \u003cdiv class=\"price__sale\"\u003e\n \u003cdiv\u003e\n \u003cspan\u003ewas\u003c\/span\u003e\n \u003cspan class=\"visually-hidden visually-hidden--inline\"\u003eRegular price\u003c\/span\u003e\n \u003cspan\u003e\n \u003cs class=\"price-item price-item--regular\"\u003e\n \n \n \n \u003c\/s\u003e\n \u003c\/span\u003e\u003c\/div\u003e\n \u003cdiv\u003e\n \u003cspan\u003enow\u003c\/span\u003e\n \u003cspan class=\"visually-hidden visually-hidden--inline\"\u003eSale price\u003c\/span\u003e\n \u003cspan class=\"price-item price-item--sale price-item--last\"\u003e\n $429.00\n \u003c\/span\u003e\n \u003c\/div\u003e\n \u003c\/div\u003e\n \u003csmall class=\"unit-price caption hidden\"\u003e\n \u003cspan class=\"visually-hidden\"\u003eUnit price\u003c\/span\u003e\n \u003cspan class=\"price-item price-item--last\"\u003e\n \u003cspan\u003e\u003c\/span\u003e\n \u003cspan aria-hidden=\"true\"\u003e\/\u003c\/span\u003e\n \u003cspan class=\"visually-hidden\"\u003e\u0026nbsp;per\u0026nbsp;\u003c\/span\u003e\n \u003cspan\u003e\n \u003c\/span\u003e\n \u003c\/span\u003e\n \u003c\/small\u003e\n \u003c\/div\u003e\u003c\/div\u003e\n\n", mf: { } }; variants.push(variant); var variant = { id: 12325991809077, available: false, options: ["8 Inches","California King"], option1: "8 Inches", option2: "California King", option3: null, price: 42900, compare_price: null, media: { alt: null, src: null, position: null, img_url: "\/\/lifekind.com\/cdn\/shopifycloud\/shopify\/assets\/no-image-50-3d8cc48bd078edcd544c8d60f929ed2d8800a3fc52e0f602e84b1767e392bfcd_{width}x.gif", hover_img_url: "\/\/lifekind.com\/cdn\/shopifycloud\/shopify\/assets\/no-image-50-3d8cc48bd078edcd544c8d60f929ed2d8800a3fc52e0f602e84b1767e392bfcd_{width}x.gif" }, price_html: "\n\u003cdiv class=\"price price--sold-out \"\u003e\n \u003cdiv class=\"price__container\"\u003e\u003cdiv class=\"price__regular\"\u003e\n \u003cspan class=\"visually-hidden visually-hidden--inline\"\u003eRegular price\u003c\/span\u003e\n \u003cspan class=\"price-item price-item--regular\"\u003e\n $429.00\n \u003c\/span\u003e\n \u003c\/div\u003e\n \u003cdiv class=\"price__sale\"\u003e\n \u003cdiv\u003e\n \u003cspan\u003ewas\u003c\/span\u003e\n \u003cspan class=\"visually-hidden visually-hidden--inline\"\u003eRegular price\u003c\/span\u003e\n \u003cspan\u003e\n \u003cs class=\"price-item price-item--regular\"\u003e\n \n \n \n \u003c\/s\u003e\n \u003c\/span\u003e\u003c\/div\u003e\n \u003cdiv\u003e\n \u003cspan\u003enow\u003c\/span\u003e\n \u003cspan class=\"visually-hidden visually-hidden--inline\"\u003eSale price\u003c\/span\u003e\n \u003cspan class=\"price-item price-item--sale price-item--last\"\u003e\n $429.00\n \u003c\/span\u003e\n \u003c\/div\u003e\n \u003c\/div\u003e\n \u003csmall class=\"unit-price caption hidden\"\u003e\n \u003cspan class=\"visually-hidden\"\u003eUnit price\u003c\/span\u003e\n \u003cspan class=\"price-item price-item--last\"\u003e\n \u003cspan\u003e\u003c\/span\u003e\n \u003cspan aria-hidden=\"true\"\u003e\/\u003c\/span\u003e\n \u003cspan class=\"visually-hidden\"\u003e\u0026nbsp;per\u0026nbsp;\u003c\/span\u003e\n \u003cspan\u003e\n \u003c\/span\u003e\n \u003c\/span\u003e\n \u003c\/small\u003e\n \u003c\/div\u003e\u003c\/div\u003e\n\n", mf: { } }; variants.push(variant); var variant = { id: 12325992005685, available: false, options: ["10 Inches","Twin"], option1: "10 Inches", option2: "Twin", option3: null, price: 23900, compare_price: null, media: { alt: null, src: null, position: null, img_url: "\/\/lifekind.com\/cdn\/shopifycloud\/shopify\/assets\/no-image-50-3d8cc48bd078edcd544c8d60f929ed2d8800a3fc52e0f602e84b1767e392bfcd_{width}x.gif", hover_img_url: "\/\/lifekind.com\/cdn\/shopifycloud\/shopify\/assets\/no-image-50-3d8cc48bd078edcd544c8d60f929ed2d8800a3fc52e0f602e84b1767e392bfcd_{width}x.gif" }, price_html: "\n\u003cdiv class=\"price price--sold-out \"\u003e\n \u003cdiv class=\"price__container\"\u003e\u003cdiv class=\"price__regular\"\u003e\n \u003cspan class=\"visually-hidden visually-hidden--inline\"\u003eRegular price\u003c\/span\u003e\n \u003cspan class=\"price-item price-item--regular\"\u003e\n $239.00\n \u003c\/span\u003e\n \u003c\/div\u003e\n \u003cdiv class=\"price__sale\"\u003e\n \u003cdiv\u003e\n \u003cspan\u003ewas\u003c\/span\u003e\n \u003cspan class=\"visually-hidden visually-hidden--inline\"\u003eRegular price\u003c\/span\u003e\n \u003cspan\u003e\n \u003cs class=\"price-item price-item--regular\"\u003e\n \n \n \n \u003c\/s\u003e\n \u003c\/span\u003e\u003c\/div\u003e\n \u003cdiv\u003e\n \u003cspan\u003enow\u003c\/span\u003e\n \u003cspan class=\"visually-hidden visually-hidden--inline\"\u003eSale price\u003c\/span\u003e\n \u003cspan class=\"price-item price-item--sale price-item--last\"\u003e\n $239.00\n \u003c\/span\u003e\n \u003c\/div\u003e\n \u003c\/div\u003e\n \u003csmall class=\"unit-price caption hidden\"\u003e\n \u003cspan class=\"visually-hidden\"\u003eUnit price\u003c\/span\u003e\n \u003cspan class=\"price-item price-item--last\"\u003e\n \u003cspan\u003e\u003c\/span\u003e\n \u003cspan aria-hidden=\"true\"\u003e\/\u003c\/span\u003e\n \u003cspan class=\"visually-hidden\"\u003e\u0026nbsp;per\u0026nbsp;\u003c\/span\u003e\n \u003cspan\u003e\n \u003c\/span\u003e\n \u003c\/span\u003e\n \u003c\/small\u003e\n \u003c\/div\u003e\u003c\/div\u003e\n\n", mf: { } }; variants.push(variant); var variant = { id: 12325992038453, available: false, options: ["10 Inches","Twin XL"], option1: "10 Inches", option2: "Twin XL", option3: null, price: 24900, compare_price: null, media: { alt: null, src: null, position: null, img_url: "\/\/lifekind.com\/cdn\/shopifycloud\/shopify\/assets\/no-image-50-3d8cc48bd078edcd544c8d60f929ed2d8800a3fc52e0f602e84b1767e392bfcd_{width}x.gif", hover_img_url: "\/\/lifekind.com\/cdn\/shopifycloud\/shopify\/assets\/no-image-50-3d8cc48bd078edcd544c8d60f929ed2d8800a3fc52e0f602e84b1767e392bfcd_{width}x.gif" }, price_html: "\n\u003cdiv class=\"price price--sold-out \"\u003e\n \u003cdiv class=\"price__container\"\u003e\u003cdiv class=\"price__regular\"\u003e\n \u003cspan class=\"visually-hidden visually-hidden--inline\"\u003eRegular price\u003c\/span\u003e\n \u003cspan class=\"price-item price-item--regular\"\u003e\n $249.00\n \u003c\/span\u003e\n \u003c\/div\u003e\n \u003cdiv class=\"price__sale\"\u003e\n \u003cdiv\u003e\n \u003cspan\u003ewas\u003c\/span\u003e\n \u003cspan class=\"visually-hidden visually-hidden--inline\"\u003eRegular price\u003c\/span\u003e\n \u003cspan\u003e\n \u003cs class=\"price-item price-item--regular\"\u003e\n \n \n \n \u003c\/s\u003e\n \u003c\/span\u003e\u003c\/div\u003e\n \u003cdiv\u003e\n \u003cspan\u003enow\u003c\/span\u003e\n \u003cspan class=\"visually-hidden visually-hidden--inline\"\u003eSale price\u003c\/span\u003e\n \u003cspan class=\"price-item price-item--sale price-item--last\"\u003e\n $249.00\n \u003c\/span\u003e\n \u003c\/div\u003e\n \u003c\/div\u003e\n \u003csmall class=\"unit-price caption hidden\"\u003e\n \u003cspan class=\"visually-hidden\"\u003eUnit price\u003c\/span\u003e\n \u003cspan class=\"price-item price-item--last\"\u003e\n \u003cspan\u003e\u003c\/span\u003e\n \u003cspan aria-hidden=\"true\"\u003e\/\u003c\/span\u003e\n \u003cspan class=\"visually-hidden\"\u003e\u0026nbsp;per\u0026nbsp;\u003c\/span\u003e\n \u003cspan\u003e\n \u003c\/span\u003e\n \u003c\/span\u003e\n \u003c\/small\u003e\n \u003c\/div\u003e\u003c\/div\u003e\n\n", mf: { } }; variants.push(variant); var variant = { id: 12325992071221, available: false, options: ["10 Inches","Full"], option1: "10 Inches", option2: "Full", option3: null, price: 31900, compare_price: null, media: { alt: null, src: null, position: null, img_url: "\/\/lifekind.com\/cdn\/shopifycloud\/shopify\/assets\/no-image-50-3d8cc48bd078edcd544c8d60f929ed2d8800a3fc52e0f602e84b1767e392bfcd_{width}x.gif", hover_img_url: "\/\/lifekind.com\/cdn\/shopifycloud\/shopify\/assets\/no-image-50-3d8cc48bd078edcd544c8d60f929ed2d8800a3fc52e0f602e84b1767e392bfcd_{width}x.gif" }, price_html: "\n\u003cdiv class=\"price price--sold-out \"\u003e\n \u003cdiv class=\"price__container\"\u003e\u003cdiv class=\"price__regular\"\u003e\n \u003cspan class=\"visually-hidden visually-hidden--inline\"\u003eRegular price\u003c\/span\u003e\n \u003cspan class=\"price-item price-item--regular\"\u003e\n $319.00\n \u003c\/span\u003e\n \u003c\/div\u003e\n \u003cdiv class=\"price__sale\"\u003e\n \u003cdiv\u003e\n \u003cspan\u003ewas\u003c\/span\u003e\n \u003cspan class=\"visually-hidden visually-hidden--inline\"\u003eRegular price\u003c\/span\u003e\n \u003cspan\u003e\n \u003cs class=\"price-item price-item--regular\"\u003e\n \n \n \n \u003c\/s\u003e\n \u003c\/span\u003e\u003c\/div\u003e\n \u003cdiv\u003e\n \u003cspan\u003enow\u003c\/span\u003e\n \u003cspan class=\"visually-hidden visually-hidden--inline\"\u003eSale price\u003c\/span\u003e\n \u003cspan class=\"price-item price-item--sale price-item--last\"\u003e\n $319.00\n \u003c\/span\u003e\n \u003c\/div\u003e\n \u003c\/div\u003e\n \u003csmall class=\"unit-price caption hidden\"\u003e\n \u003cspan class=\"visually-hidden\"\u003eUnit price\u003c\/span\u003e\n \u003cspan class=\"price-item price-item--last\"\u003e\n \u003cspan\u003e\u003c\/span\u003e\n \u003cspan aria-hidden=\"true\"\u003e\/\u003c\/span\u003e\n \u003cspan class=\"visually-hidden\"\u003e\u0026nbsp;per\u0026nbsp;\u003c\/span\u003e\n \u003cspan\u003e\n \u003c\/span\u003e\n \u003c\/span\u003e\n \u003c\/small\u003e\n \u003c\/div\u003e\u003c\/div\u003e\n\n", mf: { } }; variants.push(variant); var variant = { id: 12325992103989, available: false, options: ["10 Inches","Queen"], option1: "10 Inches", option2: "Queen", option3: null, price: 34900, compare_price: null, media: { alt: null, src: null, position: null, img_url: "\/\/lifekind.com\/cdn\/shopifycloud\/shopify\/assets\/no-image-50-3d8cc48bd078edcd544c8d60f929ed2d8800a3fc52e0f602e84b1767e392bfcd_{width}x.gif", hover_img_url: "\/\/lifekind.com\/cdn\/shopifycloud\/shopify\/assets\/no-image-50-3d8cc48bd078edcd544c8d60f929ed2d8800a3fc52e0f602e84b1767e392bfcd_{width}x.gif" }, price_html: "\n\u003cdiv class=\"price price--sold-out \"\u003e\n \u003cdiv class=\"price__container\"\u003e\u003cdiv class=\"price__regular\"\u003e\n \u003cspan class=\"visually-hidden visually-hidden--inline\"\u003eRegular price\u003c\/span\u003e\n \u003cspan class=\"price-item price-item--regular\"\u003e\n $349.00\n \u003c\/span\u003e\n \u003c\/div\u003e\n \u003cdiv class=\"price__sale\"\u003e\n \u003cdiv\u003e\n \u003cspan\u003ewas\u003c\/span\u003e\n \u003cspan class=\"visually-hidden visually-hidden--inline\"\u003eRegular price\u003c\/span\u003e\n \u003cspan\u003e\n \u003cs class=\"price-item price-item--regular\"\u003e\n \n \n \n \u003c\/s\u003e\n \u003c\/span\u003e\u003c\/div\u003e\n \u003cdiv\u003e\n \u003cspan\u003enow\u003c\/span\u003e\n \u003cspan class=\"visually-hidden visually-hidden--inline\"\u003eSale price\u003c\/span\u003e\n \u003cspan class=\"price-item price-item--sale price-item--last\"\u003e\n $349.00\n \u003c\/span\u003e\n \u003c\/div\u003e\n \u003c\/div\u003e\n \u003csmall class=\"unit-price caption hidden\"\u003e\n \u003cspan class=\"visually-hidden\"\u003eUnit price\u003c\/span\u003e\n \u003cspan class=\"price-item price-item--last\"\u003e\n \u003cspan\u003e\u003c\/span\u003e\n \u003cspan aria-hidden=\"true\"\u003e\/\u003c\/span\u003e\n \u003cspan class=\"visually-hidden\"\u003e\u0026nbsp;per\u0026nbsp;\u003c\/span\u003e\n \u003cspan\u003e\n \u003c\/span\u003e\n \u003c\/span\u003e\n \u003c\/small\u003e\n \u003c\/div\u003e\u003c\/div\u003e\n\n", mf: { } }; variants.push(variant); var variant = { id: 12325992136757, available: false, options: ["10 Inches","Eastern King"], option1: "10 Inches", option2: "Eastern King", option3: null, price: 42900, compare_price: null, media: { alt: null, src: null, position: null, img_url: "\/\/lifekind.com\/cdn\/shopifycloud\/shopify\/assets\/no-image-50-3d8cc48bd078edcd544c8d60f929ed2d8800a3fc52e0f602e84b1767e392bfcd_{width}x.gif", hover_img_url: "\/\/lifekind.com\/cdn\/shopifycloud\/shopify\/assets\/no-image-50-3d8cc48bd078edcd544c8d60f929ed2d8800a3fc52e0f602e84b1767e392bfcd_{width}x.gif" }, price_html: "\n\u003cdiv class=\"price price--sold-out \"\u003e\n \u003cdiv class=\"price__container\"\u003e\u003cdiv class=\"price__regular\"\u003e\n \u003cspan class=\"visually-hidden visually-hidden--inline\"\u003eRegular price\u003c\/span\u003e\n \u003cspan class=\"price-item price-item--regular\"\u003e\n $429.00\n \u003c\/span\u003e\n \u003c\/div\u003e\n \u003cdiv class=\"price__sale\"\u003e\n \u003cdiv\u003e\n \u003cspan\u003ewas\u003c\/span\u003e\n \u003cspan class=\"visually-hidden visually-hidden--inline\"\u003eRegular price\u003c\/span\u003e\n \u003cspan\u003e\n \u003cs class=\"price-item price-item--regular\"\u003e\n \n \n \n \u003c\/s\u003e\n \u003c\/span\u003e\u003c\/div\u003e\n \u003cdiv\u003e\n \u003cspan\u003enow\u003c\/span\u003e\n \u003cspan class=\"visually-hidden visually-hidden--inline\"\u003eSale price\u003c\/span\u003e\n \u003cspan class=\"price-item price-item--sale price-item--last\"\u003e\n $429.00\n \u003c\/span\u003e\n \u003c\/div\u003e\n \u003c\/div\u003e\n \u003csmall class=\"unit-price caption hidden\"\u003e\n \u003cspan class=\"visually-hidden\"\u003eUnit price\u003c\/span\u003e\n \u003cspan class=\"price-item price-item--last\"\u003e\n \u003cspan\u003e\u003c\/span\u003e\n \u003cspan aria-hidden=\"true\"\u003e\/\u003c\/span\u003e\n \u003cspan class=\"visually-hidden\"\u003e\u0026nbsp;per\u0026nbsp;\u003c\/span\u003e\n \u003cspan\u003e\n \u003c\/span\u003e\n \u003c\/span\u003e\n \u003c\/small\u003e\n \u003c\/div\u003e\u003c\/div\u003e\n\n", mf: { } }; variants.push(variant); var variant = { id: 12325992169525, available: false, options: ["10 Inches","California King"], option1: "10 Inches", option2: "California King", option3: null, price: 42900, compare_price: null, media: { alt: null, src: null, position: null, img_url: "\/\/lifekind.com\/cdn\/shopifycloud\/shopify\/assets\/no-image-50-3d8cc48bd078edcd544c8d60f929ed2d8800a3fc52e0f602e84b1767e392bfcd_{width}x.gif", hover_img_url: "\/\/lifekind.com\/cdn\/shopifycloud\/shopify\/assets\/no-image-50-3d8cc48bd078edcd544c8d60f929ed2d8800a3fc52e0f602e84b1767e392bfcd_{width}x.gif" }, price_html: "\n\u003cdiv class=\"price price--sold-out \"\u003e\n \u003cdiv class=\"price__container\"\u003e\u003cdiv class=\"price__regular\"\u003e\n \u003cspan class=\"visually-hidden visually-hidden--inline\"\u003eRegular price\u003c\/span\u003e\n \u003cspan class=\"price-item price-item--regular\"\u003e\n $429.00\n \u003c\/span\u003e\n \u003c\/div\u003e\n \u003cdiv class=\"price__sale\"\u003e\n \u003cdiv\u003e\n \u003cspan\u003ewas\u003c\/span\u003e\n \u003cspan class=\"visually-hidden visually-hidden--inline\"\u003eRegular price\u003c\/span\u003e\n \u003cspan\u003e\n \u003cs class=\"price-item price-item--regular\"\u003e\n \n \n \n \u003c\/s\u003e\n \u003c\/span\u003e\u003c\/div\u003e\n \u003cdiv\u003e\n \u003cspan\u003enow\u003c\/span\u003e\n \u003cspan class=\"visually-hidden visually-hidden--inline\"\u003eSale price\u003c\/span\u003e\n \u003cspan class=\"price-item price-item--sale price-item--last\"\u003e\n $429.00\n \u003c\/span\u003e\n \u003c\/div\u003e\n \u003c\/div\u003e\n \u003csmall class=\"unit-price caption hidden\"\u003e\n \u003cspan class=\"visually-hidden\"\u003eUnit price\u003c\/span\u003e\n \u003cspan class=\"price-item price-item--last\"\u003e\n \u003cspan\u003e\u003c\/span\u003e\n \u003cspan aria-hidden=\"true\"\u003e\/\u003c\/span\u003e\n \u003cspan class=\"visually-hidden\"\u003e\u0026nbsp;per\u0026nbsp;\u003c\/span\u003e\n \u003cspan\u003e\n \u003c\/span\u003e\n \u003c\/span\u003e\n \u003c\/small\u003e\n \u003c\/div\u003e\u003c\/div\u003e\n\n", mf: { } }; variants.push(variant); var variant = { id: 12325992366133, available: false, options: ["12 Inches","Twin"], option1: "12 Inches", option2: "Twin", option3: null, price: 23900, compare_price: null, media: { alt: null, src: null, position: null, img_url: "\/\/lifekind.com\/cdn\/shopifycloud\/shopify\/assets\/no-image-50-3d8cc48bd078edcd544c8d60f929ed2d8800a3fc52e0f602e84b1767e392bfcd_{width}x.gif", hover_img_url: "\/\/lifekind.com\/cdn\/shopifycloud\/shopify\/assets\/no-image-50-3d8cc48bd078edcd544c8d60f929ed2d8800a3fc52e0f602e84b1767e392bfcd_{width}x.gif" }, price_html: "\n\u003cdiv class=\"price price--sold-out \"\u003e\n \u003cdiv class=\"price__container\"\u003e\u003cdiv class=\"price__regular\"\u003e\n \u003cspan class=\"visually-hidden visually-hidden--inline\"\u003eRegular price\u003c\/span\u003e\n \u003cspan class=\"price-item price-item--regular\"\u003e\n $239.00\n \u003c\/span\u003e\n \u003c\/div\u003e\n \u003cdiv class=\"price__sale\"\u003e\n \u003cdiv\u003e\n \u003cspan\u003ewas\u003c\/span\u003e\n \u003cspan class=\"visually-hidden visually-hidden--inline\"\u003eRegular price\u003c\/span\u003e\n \u003cspan\u003e\n \u003cs class=\"price-item price-item--regular\"\u003e\n \n \n \n \u003c\/s\u003e\n \u003c\/span\u003e\u003c\/div\u003e\n \u003cdiv\u003e\n \u003cspan\u003enow\u003c\/span\u003e\n \u003cspan class=\"visually-hidden visually-hidden--inline\"\u003eSale price\u003c\/span\u003e\n \u003cspan class=\"price-item price-item--sale price-item--last\"\u003e\n $239.00\n \u003c\/span\u003e\n \u003c\/div\u003e\n \u003c\/div\u003e\n \u003csmall class=\"unit-price caption hidden\"\u003e\n \u003cspan class=\"visually-hidden\"\u003eUnit price\u003c\/span\u003e\n \u003cspan class=\"price-item price-item--last\"\u003e\n \u003cspan\u003e\u003c\/span\u003e\n \u003cspan aria-hidden=\"true\"\u003e\/\u003c\/span\u003e\n \u003cspan class=\"visually-hidden\"\u003e\u0026nbsp;per\u0026nbsp;\u003c\/span\u003e\n \u003cspan\u003e\n \u003c\/span\u003e\n \u003c\/span\u003e\n \u003c\/small\u003e\n \u003c\/div\u003e\u003c\/div\u003e\n\n", mf: { } }; variants.push(variant); var variant = { id: 12325992333365, available: false, options: ["12 Inches","Twin XL"], option1: "12 Inches", option2: "Twin XL", option3: null, price: 24900, compare_price: null, media: { alt: null, src: null, position: null, img_url: "\/\/lifekind.com\/cdn\/shopifycloud\/shopify\/assets\/no-image-50-3d8cc48bd078edcd544c8d60f929ed2d8800a3fc52e0f602e84b1767e392bfcd_{width}x.gif", hover_img_url: "\/\/lifekind.com\/cdn\/shopifycloud\/shopify\/assets\/no-image-50-3d8cc48bd078edcd544c8d60f929ed2d8800a3fc52e0f602e84b1767e392bfcd_{width}x.gif" }, price_html: "\n\u003cdiv class=\"price price--sold-out \"\u003e\n \u003cdiv class=\"price__container\"\u003e\u003cdiv class=\"price__regular\"\u003e\n \u003cspan class=\"visually-hidden visually-hidden--inline\"\u003eRegular price\u003c\/span\u003e\n \u003cspan class=\"price-item price-item--regular\"\u003e\n $249.00\n \u003c\/span\u003e\n \u003c\/div\u003e\n \u003cdiv class=\"price__sale\"\u003e\n \u003cdiv\u003e\n \u003cspan\u003ewas\u003c\/span\u003e\n \u003cspan class=\"visually-hidden visually-hidden--inline\"\u003eRegular price\u003c\/span\u003e\n \u003cspan\u003e\n \u003cs class=\"price-item price-item--regular\"\u003e\n \n \n \n \u003c\/s\u003e\n \u003c\/span\u003e\u003c\/div\u003e\n \u003cdiv\u003e\n \u003cspan\u003enow\u003c\/span\u003e\n \u003cspan class=\"visually-hidden visually-hidden--inline\"\u003eSale price\u003c\/span\u003e\n \u003cspan class=\"price-item price-item--sale price-item--last\"\u003e\n $249.00\n \u003c\/span\u003e\n \u003c\/div\u003e\n \u003c\/div\u003e\n \u003csmall class=\"unit-price caption hidden\"\u003e\n \u003cspan class=\"visually-hidden\"\u003eUnit price\u003c\/span\u003e\n \u003cspan class=\"price-item price-item--last\"\u003e\n \u003cspan\u003e\u003c\/span\u003e\n \u003cspan aria-hidden=\"true\"\u003e\/\u003c\/span\u003e\n \u003cspan class=\"visually-hidden\"\u003e\u0026nbsp;per\u0026nbsp;\u003c\/span\u003e\n \u003cspan\u003e\n \u003c\/span\u003e\n \u003c\/span\u003e\n \u003c\/small\u003e\n \u003c\/div\u003e\u003c\/div\u003e\n\n", mf: { } }; variants.push(variant); var variant = { id: 12325992300597, available: false, options: ["12 Inches","Full"], option1: "12 Inches", option2: "Full", option3: null, price: 31900, compare_price: null, media: { alt: null, src: null, position: null, img_url: "\/\/lifekind.com\/cdn\/shopifycloud\/shopify\/assets\/no-image-50-3d8cc48bd078edcd544c8d60f929ed2d8800a3fc52e0f602e84b1767e392bfcd_{width}x.gif", hover_img_url: "\/\/lifekind.com\/cdn\/shopifycloud\/shopify\/assets\/no-image-50-3d8cc48bd078edcd544c8d60f929ed2d8800a3fc52e0f602e84b1767e392bfcd_{width}x.gif" }, price_html: "\n\u003cdiv class=\"price price--sold-out \"\u003e\n \u003cdiv class=\"price__container\"\u003e\u003cdiv class=\"price__regular\"\u003e\n \u003cspan class=\"visually-hidden visually-hidden--inline\"\u003eRegular price\u003c\/span\u003e\n \u003cspan class=\"price-item price-item--regular\"\u003e\n $319.00\n \u003c\/span\u003e\n \u003c\/div\u003e\n \u003cdiv class=\"price__sale\"\u003e\n \u003cdiv\u003e\n \u003cspan\u003ewas\u003c\/span\u003e\n \u003cspan class=\"visually-hidden visually-hidden--inline\"\u003eRegular price\u003c\/span\u003e\n \u003cspan\u003e\n \u003cs class=\"price-item price-item--regular\"\u003e\n \n \n \n \u003c\/s\u003e\n \u003c\/span\u003e\u003c\/div\u003e\n \u003cdiv\u003e\n \u003cspan\u003enow\u003c\/span\u003e\n \u003cspan class=\"visually-hidden visually-hidden--inline\"\u003eSale price\u003c\/span\u003e\n \u003cspan class=\"price-item price-item--sale price-item--last\"\u003e\n $319.00\n \u003c\/span\u003e\n \u003c\/div\u003e\n \u003c\/div\u003e\n \u003csmall class=\"unit-price caption hidden\"\u003e\n \u003cspan class=\"visually-hidden\"\u003eUnit price\u003c\/span\u003e\n \u003cspan class=\"price-item price-item--last\"\u003e\n \u003cspan\u003e\u003c\/span\u003e\n \u003cspan aria-hidden=\"true\"\u003e\/\u003c\/span\u003e\n \u003cspan class=\"visually-hidden\"\u003e\u0026nbsp;per\u0026nbsp;\u003c\/span\u003e\n \u003cspan\u003e\n \u003c\/span\u003e\n \u003c\/span\u003e\n \u003c\/small\u003e\n \u003c\/div\u003e\u003c\/div\u003e\n\n", mf: { } }; variants.push(variant); var variant = { id: 12325992267829, available: false, options: ["12 Inches","Queen"], option1: "12 Inches", option2: "Queen", option3: null, price: 34900, compare_price: null, media: { alt: null, src: null, position: null, img_url: "\/\/lifekind.com\/cdn\/shopifycloud\/shopify\/assets\/no-image-50-3d8cc48bd078edcd544c8d60f929ed2d8800a3fc52e0f602e84b1767e392bfcd_{width}x.gif", hover_img_url: "\/\/lifekind.com\/cdn\/shopifycloud\/shopify\/assets\/no-image-50-3d8cc48bd078edcd544c8d60f929ed2d8800a3fc52e0f602e84b1767e392bfcd_{width}x.gif" }, price_html: "\n\u003cdiv class=\"price price--sold-out \"\u003e\n \u003cdiv class=\"price__container\"\u003e\u003cdiv class=\"price__regular\"\u003e\n \u003cspan class=\"visually-hidden visually-hidden--inline\"\u003eRegular price\u003c\/span\u003e\n \u003cspan class=\"price-item price-item--regular\"\u003e\n $349.00\n \u003c\/span\u003e\n \u003c\/div\u003e\n \u003cdiv class=\"price__sale\"\u003e\n \u003cdiv\u003e\n \u003cspan\u003ewas\u003c\/span\u003e\n \u003cspan class=\"visually-hidden visually-hidden--inline\"\u003eRegular price\u003c\/span\u003e\n \u003cspan\u003e\n \u003cs class=\"price-item price-item--regular\"\u003e\n \n \n \n \u003c\/s\u003e\n \u003c\/span\u003e\u003c\/div\u003e\n \u003cdiv\u003e\n \u003cspan\u003enow\u003c\/span\u003e\n \u003cspan class=\"visually-hidden visually-hidden--inline\"\u003eSale price\u003c\/span\u003e\n \u003cspan class=\"price-item price-item--sale price-item--last\"\u003e\n $349.00\n \u003c\/span\u003e\n \u003c\/div\u003e\n \u003c\/div\u003e\n \u003csmall class=\"unit-price caption hidden\"\u003e\n \u003cspan class=\"visually-hidden\"\u003eUnit price\u003c\/span\u003e\n \u003cspan class=\"price-item price-item--last\"\u003e\n \u003cspan\u003e\u003c\/span\u003e\n \u003cspan aria-hidden=\"true\"\u003e\/\u003c\/span\u003e\n \u003cspan class=\"visually-hidden\"\u003e\u0026nbsp;per\u0026nbsp;\u003c\/span\u003e\n \u003cspan\u003e\n \u003c\/span\u003e\n \u003c\/span\u003e\n \u003c\/small\u003e\n \u003c\/div\u003e\u003c\/div\u003e\n\n", mf: { } }; variants.push(variant); var variant = { id: 12325992235061, available: false, options: ["12 Inches","Eastern King"], option1: "12 Inches", option2: "Eastern King", option3: null, price: 42900, compare_price: null, media: { alt: null, src: null, position: null, img_url: "\/\/lifekind.com\/cdn\/shopifycloud\/shopify\/assets\/no-image-50-3d8cc48bd078edcd544c8d60f929ed2d8800a3fc52e0f602e84b1767e392bfcd_{width}x.gif", hover_img_url: "\/\/lifekind.com\/cdn\/shopifycloud\/shopify\/assets\/no-image-50-3d8cc48bd078edcd544c8d60f929ed2d8800a3fc52e0f602e84b1767e392bfcd_{width}x.gif" }, price_html: "\n\u003cdiv class=\"price price--sold-out \"\u003e\n \u003cdiv class=\"price__container\"\u003e\u003cdiv class=\"price__regular\"\u003e\n \u003cspan class=\"visually-hidden visually-hidden--inline\"\u003eRegular price\u003c\/span\u003e\n \u003cspan class=\"price-item price-item--regular\"\u003e\n $429.00\n \u003c\/span\u003e\n \u003c\/div\u003e\n \u003cdiv class=\"price__sale\"\u003e\n \u003cdiv\u003e\n \u003cspan\u003ewas\u003c\/span\u003e\n \u003cspan class=\"visually-hidden visually-hidden--inline\"\u003eRegular price\u003c\/span\u003e\n \u003cspan\u003e\n \u003cs class=\"price-item price-item--regular\"\u003e\n \n \n \n \u003c\/s\u003e\n \u003c\/span\u003e\u003c\/div\u003e\n \u003cdiv\u003e\n \u003cspan\u003enow\u003c\/span\u003e\n \u003cspan class=\"visually-hidden visually-hidden--inline\"\u003eSale price\u003c\/span\u003e\n \u003cspan class=\"price-item price-item--sale price-item--last\"\u003e\n $429.00\n \u003c\/span\u003e\n \u003c\/div\u003e\n \u003c\/div\u003e\n \u003csmall class=\"unit-price caption hidden\"\u003e\n \u003cspan class=\"visually-hidden\"\u003eUnit price\u003c\/span\u003e\n \u003cspan class=\"price-item price-item--last\"\u003e\n \u003cspan\u003e\u003c\/span\u003e\n \u003cspan aria-hidden=\"true\"\u003e\/\u003c\/span\u003e\n \u003cspan class=\"visually-hidden\"\u003e\u0026nbsp;per\u0026nbsp;\u003c\/span\u003e\n \u003cspan\u003e\n \u003c\/span\u003e\n \u003c\/span\u003e\n \u003c\/small\u003e\n \u003c\/div\u003e\u003c\/div\u003e\n\n", mf: { } }; variants.push(variant); var variant = { id: 12325992202293, available: false, options: ["12 Inches","California King"], option1: "12 Inches", option2: "California King", option3: null, price: 42900, compare_price: null, media: { alt: null, src: null, position: null, img_url: "\/\/lifekind.com\/cdn\/shopifycloud\/shopify\/assets\/no-image-50-3d8cc48bd078edcd544c8d60f929ed2d8800a3fc52e0f602e84b1767e392bfcd_{width}x.gif", hover_img_url: "\/\/lifekind.com\/cdn\/shopifycloud\/shopify\/assets\/no-image-50-3d8cc48bd078edcd544c8d60f929ed2d8800a3fc52e0f602e84b1767e392bfcd_{width}x.gif" }, price_html: "\n\u003cdiv class=\"price price--sold-out \"\u003e\n \u003cdiv class=\"price__container\"\u003e\u003cdiv class=\"price__regular\"\u003e\n \u003cspan class=\"visually-hidden visually-hidden--inline\"\u003eRegular price\u003c\/span\u003e\n \u003cspan class=\"price-item price-item--regular\"\u003e\n $429.00\n \u003c\/span\u003e\n \u003c\/div\u003e\n \u003cdiv class=\"price__sale\"\u003e\n \u003cdiv\u003e\n \u003cspan\u003ewas\u003c\/span\u003e\n \u003cspan class=\"visually-hidden visually-hidden--inline\"\u003eRegular price\u003c\/span\u003e\n \u003cspan\u003e\n \u003cs class=\"price-item price-item--regular\"\u003e\n \n \n \n \u003c\/s\u003e\n \u003c\/span\u003e\u003c\/div\u003e\n \u003cdiv\u003e\n \u003cspan\u003enow\u003c\/span\u003e\n \u003cspan class=\"visually-hidden visually-hidden--inline\"\u003eSale price\u003c\/span\u003e\n \u003cspan class=\"price-item price-item--sale price-item--last\"\u003e\n $429.00\n \u003c\/span\u003e\n \u003c\/div\u003e\n \u003c\/div\u003e\n \u003csmall class=\"unit-price caption hidden\"\u003e\n \u003cspan class=\"visually-hidden\"\u003eUnit price\u003c\/span\u003e\n \u003cspan class=\"price-item price-item--last\"\u003e\n \u003cspan\u003e\u003c\/span\u003e\n \u003cspan aria-hidden=\"true\"\u003e\/\u003c\/span\u003e\n \u003cspan class=\"visually-hidden\"\u003e\u0026nbsp;per\u0026nbsp;\u003c\/span\u003e\n \u003cspan\u003e\n \u003c\/span\u003e\n \u003c\/span\u003e\n \u003c\/small\u003e\n \u003c\/div\u003e\u003c\/div\u003e\n\n", mf: { } }; variants.push(variant); product.variants = variants;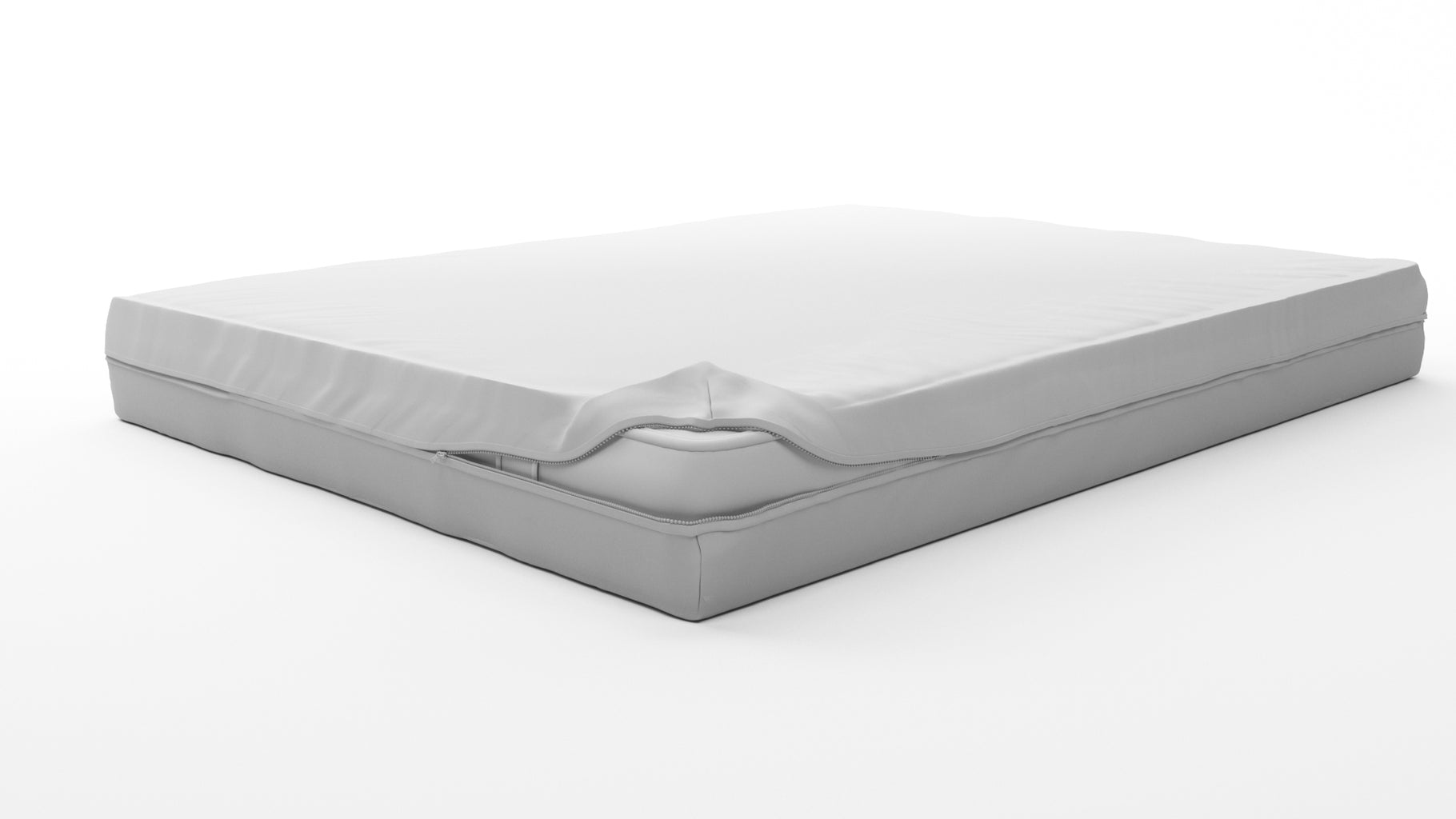 Specifications
Details

**Production Delay Alert: This item will not be available until late 2023**

Protect your family from the effects of dust-mite allergens and your organic mattress from invaders such as bed bugs. Our barrier cover is made from tightly-woven 100% certified organic cotton with a 4.5-micron pore size, and closes with a heavy-duty brass zipper. Simply remove from mattress and machine wash in hot water (cover will become softer with each washing). Unlike similar synthetic products, our sturdy, breathable organic cotton encasements offer a more healthful sleep. Available in different depths to meet your specific needs. Call for a quote. Handmade in the USA.

This item is made to order in our Northern California Eco-Factory™ and takes approximately 7-10 days to ship.

About Dust Mites...

Allergies caused by the fecal droppings of dust mites are the number-one trigger for asthmatics, and cause many of us to wake up sneezing or with swollen eyes. Their favorite habitat is the padding inside our beds, and their food source is our sloughed-off skin cells.

For best results, use our Mattress Barrier Cover when your mattress is new, before a dust-mite population settles in. Without a steady supply of skin cells, dust mites cannot survive.
Care & Use

Dry on high
Machine wash hot
Certified Organic Materials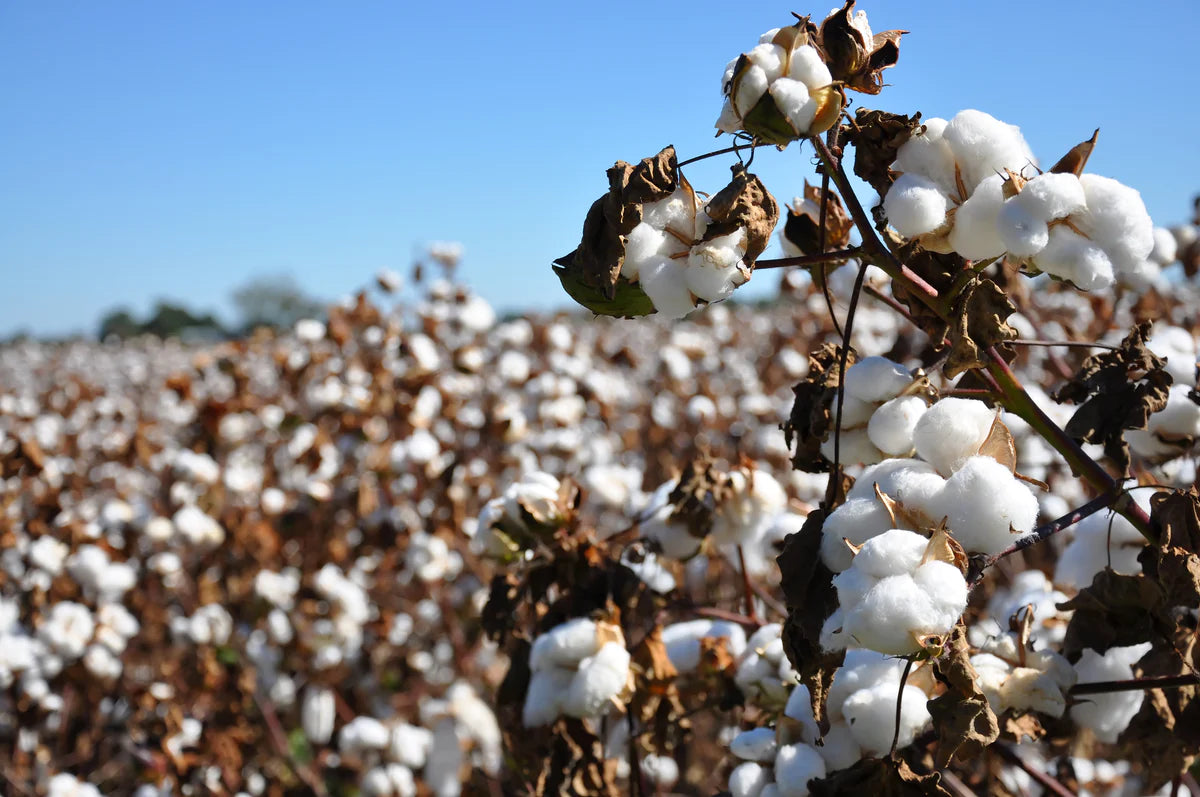 GOTS Certified Organic Cotton
Sustainable: Organic cotton is natural, renewable resource. And by choosing organic cotton, consumers are supporting sustainable agriculture practices that may reduce the negative impact on the environment and protect farmers and their communities.
Soft and Breathable: Organic cotton is naturally soft and also breathable. Cotton fibre allows air to circulate freely, which can help regulate body temperature and prevent overheating while sleeping.
Durable: Organic cotton is a strong and durable material that can last for many years without losing its shape or comfort.
FAQs
Is there an option to pay over time?

When checking out with Shop Pay, you now have the option to pay now or later. Paying in installments on Shop Pay allows you to split your purchase amount into flexible installment payments.* Your first payment is due when you make your purchase.

*Payment options are offered by Affirm and are subject to eligibility check and might not be available in all states. California residents: Affirm Loan Services, LLC is licensed by the Department of Business Oversight. Loans are made or arranged pursuant to California Financing Law license.
Do you offer free shipping?

Qualifying orders ship free to residential addresses within the continental US. Visit the cart page to see if your order qualifies for free shipping.
What is your return policy?

Please read our policy

here

.
Let customers speak for us