Sold out
Certified Organic Cotton Hot Pad
var product = { id: 2716744319061, title: "Certified Organic Cotton Hot Pad", available: false, handle: "colorgrown-certified-organic-hot-pad", description: "Our Certified Organic Cotton Hot Pads are perfectly sized to shield you or your kitchen surfaces from those hot pans or dishes. These hot pads are available in either colorgrown tan, or yarn-dyed indigo or sage (from an OTA approved low-impact dye). Hot pads have a solid and a striped side and are triple layer constructed. Approximately 9.5\" x 7.5\". Machine washable and made in the USA.", type: "Oven Mitts \u0026 Pot Holders", tags: ["Care:10","Care:17","Cleaning","Home","Kitchen","New","Textile"], options_with_values: [{"name":"Color","position":1,"values":["Blue","Sage","Tan"]}], featured_media: { alt: "Certified Organic Cotton Hot Pad", src: "\/\/lifekind.com\/cdn\/shop\/products\/HotPadLifestyle-2.jpg?v=1663180388", img_url: "\/\/lifekind.com\/cdn\/shop\/products\/HotPadLifestyle-2_{width}x.jpg?v=1663180388" }, url: "\/products\/colorgrown-certified-organic-hot-pad", mf: { } }; var variants = []; var variant = { id: 23236550557781, available: false, options: ["Blue"], option1: "Blue", option2: null, option3: null, price: 2900, compare_price: null, media: { alt: "Blue Certified Organic Cotton Hot Pad", src: "\/\/lifekind.com\/cdn\/shop\/products\/Blue_hot_pad_AS84647.jpg?v=1663180388", position: 2, img_url: "\/\/lifekind.com\/cdn\/shop\/products\/Blue_hot_pad_AS84647_{width}x.jpg?v=1663180388", hover_img_url: "\/\/lifekind.com\/cdn\/shop\/products\/Sage_hot_pad_AS84864_{width}x.jpg?v=1679883296" }, price_html: "\n\u003cdiv class=\"price price--sold-out \"\u003e\n \u003cdiv class=\"price__container\"\u003e\u003cdiv class=\"price__regular\"\u003e\n \u003cspan class=\"visually-hidden visually-hidden--inline\"\u003eRegular price\u003c\/span\u003e\n \u003cspan class=\"price-item price-item--regular\"\u003e\n $29.00\n \u003c\/span\u003e\n \u003c\/div\u003e\n \u003cdiv class=\"price__sale\"\u003e\n \u003cdiv\u003e\n \u003cspan\u003ewas\u003c\/span\u003e\n \u003cspan class=\"visually-hidden visually-hidden--inline\"\u003eRegular price\u003c\/span\u003e\n \u003cspan\u003e\n \u003cs class=\"price-item price-item--regular\"\u003e\n \n \n \n \u003c\/s\u003e\n \u003c\/span\u003e\u003c\/div\u003e\n \u003cdiv\u003e\n \u003cspan\u003enow\u003c\/span\u003e\n \u003cspan class=\"visually-hidden visually-hidden--inline\"\u003eSale price\u003c\/span\u003e\n \u003cspan class=\"price-item price-item--sale price-item--last\"\u003e\n $29.00\n \u003c\/span\u003e\n \u003c\/div\u003e\n \u003c\/div\u003e\n \u003csmall class=\"unit-price caption hidden\"\u003e\n \u003cspan class=\"visually-hidden\"\u003eUnit price\u003c\/span\u003e\n \u003cspan class=\"price-item price-item--last\"\u003e\n \u003cspan\u003e\u003c\/span\u003e\n \u003cspan aria-hidden=\"true\"\u003e\/\u003c\/span\u003e\n \u003cspan class=\"visually-hidden\"\u003e\u0026nbsp;per\u0026nbsp;\u003c\/span\u003e\n \u003cspan\u003e\n \u003c\/span\u003e\n \u003c\/span\u003e\n \u003c\/small\u003e\n \u003c\/div\u003e\u003c\/div\u003e\n\n", mf: { } }; product.selected_variant = variant; variants.push(variant); var variant = { id: 23236550590549, available: false, options: ["Sage"], option1: "Sage", option2: null, option3: null, price: 2900, compare_price: null, media: { alt: "Sage Certified Organic Cotton Hot Pad", src: "\/\/lifekind.com\/cdn\/shop\/products\/Sage_hot_pad_AS84864.jpg?v=1679883296", position: 3, img_url: "\/\/lifekind.com\/cdn\/shop\/products\/Sage_hot_pad_AS84864_{width}x.jpg?v=1679883296", hover_img_url: "\/\/lifekind.com\/cdn\/shop\/products\/Cafe_hot_pad_AS84869_{width}x.jpg?v=1679883324" }, price_html: "\n\u003cdiv class=\"price price--sold-out \"\u003e\n \u003cdiv class=\"price__container\"\u003e\u003cdiv class=\"price__regular\"\u003e\n \u003cspan class=\"visually-hidden visually-hidden--inline\"\u003eRegular price\u003c\/span\u003e\n \u003cspan class=\"price-item price-item--regular\"\u003e\n $29.00\n \u003c\/span\u003e\n \u003c\/div\u003e\n \u003cdiv class=\"price__sale\"\u003e\n \u003cdiv\u003e\n \u003cspan\u003ewas\u003c\/span\u003e\n \u003cspan class=\"visually-hidden visually-hidden--inline\"\u003eRegular price\u003c\/span\u003e\n \u003cspan\u003e\n \u003cs class=\"price-item price-item--regular\"\u003e\n \n \n \n \u003c\/s\u003e\n \u003c\/span\u003e\u003c\/div\u003e\n \u003cdiv\u003e\n \u003cspan\u003enow\u003c\/span\u003e\n \u003cspan class=\"visually-hidden visually-hidden--inline\"\u003eSale price\u003c\/span\u003e\n \u003cspan class=\"price-item price-item--sale price-item--last\"\u003e\n $29.00\n \u003c\/span\u003e\n \u003c\/div\u003e\n \u003c\/div\u003e\n \u003csmall class=\"unit-price caption hidden\"\u003e\n \u003cspan class=\"visually-hidden\"\u003eUnit price\u003c\/span\u003e\n \u003cspan class=\"price-item price-item--last\"\u003e\n \u003cspan\u003e\u003c\/span\u003e\n \u003cspan aria-hidden=\"true\"\u003e\/\u003c\/span\u003e\n \u003cspan class=\"visually-hidden\"\u003e\u0026nbsp;per\u0026nbsp;\u003c\/span\u003e\n \u003cspan\u003e\n \u003c\/span\u003e\n \u003c\/span\u003e\n \u003c\/small\u003e\n \u003c\/div\u003e\u003c\/div\u003e\n\n", mf: { } }; variants.push(variant); var variant = { id: 23236550623317, available: false, options: ["Tan"], option1: "Tan", option2: null, option3: null, price: 2900, compare_price: null, media: { alt: null, src: null, position: null, img_url: "\/\/lifekind.com\/cdn\/shopifycloud\/shopify\/assets\/no-image-50-3d8cc48bd078edcd544c8d60f929ed2d8800a3fc52e0f602e84b1767e392bfcd_{width}x.gif", hover_img_url: "\/\/lifekind.com\/cdn\/shopifycloud\/shopify\/assets\/no-image-50-3d8cc48bd078edcd544c8d60f929ed2d8800a3fc52e0f602e84b1767e392bfcd_{width}x.gif" }, price_html: "\n\u003cdiv class=\"price price--sold-out \"\u003e\n \u003cdiv class=\"price__container\"\u003e\u003cdiv class=\"price__regular\"\u003e\n \u003cspan class=\"visually-hidden visually-hidden--inline\"\u003eRegular price\u003c\/span\u003e\n \u003cspan class=\"price-item price-item--regular\"\u003e\n $29.00\n \u003c\/span\u003e\n \u003c\/div\u003e\n \u003cdiv class=\"price__sale\"\u003e\n \u003cdiv\u003e\n \u003cspan\u003ewas\u003c\/span\u003e\n \u003cspan class=\"visually-hidden visually-hidden--inline\"\u003eRegular price\u003c\/span\u003e\n \u003cspan\u003e\n \u003cs class=\"price-item price-item--regular\"\u003e\n \n \n \n \u003c\/s\u003e\n \u003c\/span\u003e\u003c\/div\u003e\n \u003cdiv\u003e\n \u003cspan\u003enow\u003c\/span\u003e\n \u003cspan class=\"visually-hidden visually-hidden--inline\"\u003eSale price\u003c\/span\u003e\n \u003cspan class=\"price-item price-item--sale price-item--last\"\u003e\n $29.00\n \u003c\/span\u003e\n \u003c\/div\u003e\n \u003c\/div\u003e\n \u003csmall class=\"unit-price caption hidden\"\u003e\n \u003cspan class=\"visually-hidden\"\u003eUnit price\u003c\/span\u003e\n \u003cspan class=\"price-item price-item--last\"\u003e\n \u003cspan\u003e\u003c\/span\u003e\n \u003cspan aria-hidden=\"true\"\u003e\/\u003c\/span\u003e\n \u003cspan class=\"visually-hidden\"\u003e\u0026nbsp;per\u0026nbsp;\u003c\/span\u003e\n \u003cspan\u003e\n \u003c\/span\u003e\n \u003c\/span\u003e\n \u003c\/small\u003e\n \u003c\/div\u003e\u003c\/div\u003e\n\n", mf: { } }; variants.push(variant); product.variants = variants;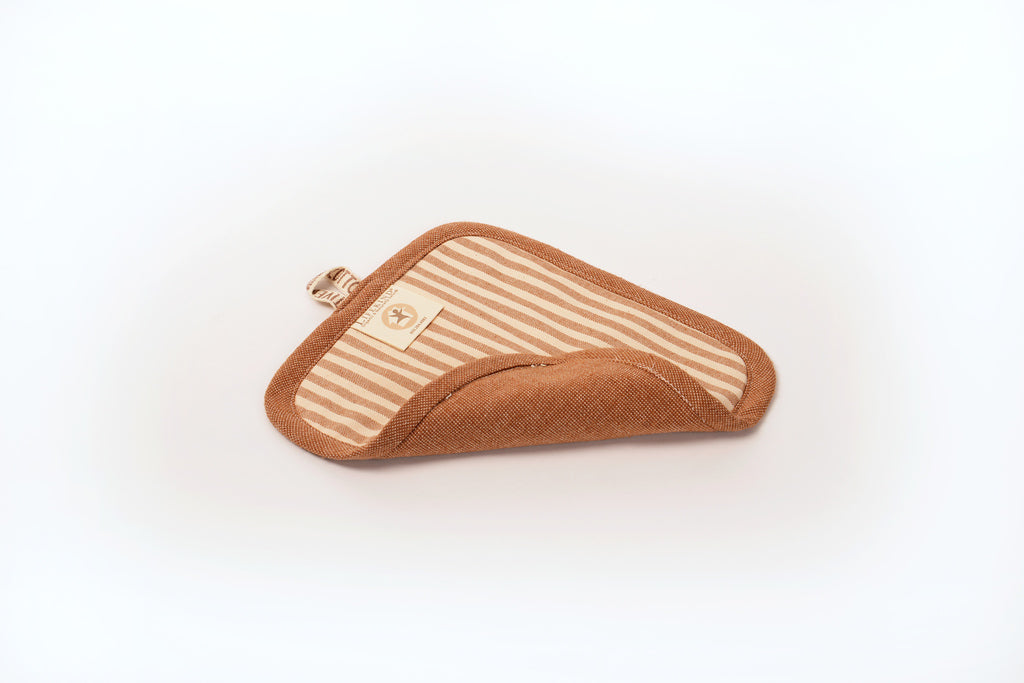 Specifications
Details

Our Certified Organic Cotton Hot Pads are perfectly sized to shield you or your kitchen surfaces from those hot pans or dishes. These hot pads are available in either colorgrown tan, or yarn-dyed indigo or sage (from an OTA approved low-impact dye). Hot pads have a solid and a striped side and are triple layer constructed. Approximately 9.5" x 7.5". Machine washable and made in the USA.
Care & Use

Machine wash warm
Dry on low
Return Policy

Unused products in new condition may be returned within 30 days of purchase, for a refund or store credit. Exceptions include mattresses, subject to the terms of our 90-day mattress comfort exchange policy, toppers, foundations and box springs, and custom-order products.

Freight charges are non refundable.

Please contact customer service before returning any merchandise, as returns require an RMA.
FAQs
Is there an option to pay over time?

When checking out with Shop Pay, you now have the option to pay now or later. Paying in installments on Shop Pay allows you to split your purchase amount into flexible installment payments.* Your first payment is due when you make your purchase.

*Payment options are offered by Affirm and are subject to eligibility check and might not be available in all states. California residents: Affirm Loan Services, LLC is licensed by the Department of Business Oversight. Loans are made or arranged pursuant to California Financing Law license.
Do you offer free shipping?

Qualifying orders ship free to residential addresses within the continental US. Visit the cart page to see if your order qualifies for free shipping.
What is your return policy?

Please read our policy

here

.
Let customers speak for us