Sold out
Silk and Fleece Throw Blanket
Our softest and most luscious organic throw.

var product = { id: 1345701380149, title: "Silk and Fleece Throw Blanket", available: false, handle: "silk-and-fleece-organic-throw-blanket", description: "Simply the softest and most luscious organic throw blanket ever! This elegant throw is for the most discriminating shopper. Made of baby-soft certified organic cotton fleece and trimmed with undyed white silk. In ivory. Handmade in the USA. (42x55")\nThis organic blanket is made of organic cotton fleece without any chemical finishing treatments. The texture of your blanket will change slightly, although will remain beautiful over time if you follow these washing instructions:\nMachine wash on gentle cycle, using cool (or preferably cold) water and a natural laundry product such as Lifekind® laundry powder or liquid. Do not use detergents, bleaches, or fabric softeners. Tumble dry on low heat until almost dry. While still damp, remove from dryer, lay flat, and smooth out any wrinkles to complete the drying process.\nDry cleaning is not suggested, as it involves the use of toxic chemicals. Instead, look for a cleaning service that practices wet cleaning or a CO2 method.", type: "Bedding", tags: ["Bedding","Blanket","Care:10","Care:17","Cotton","Fleece","Throw"], options_with_values: [{"name":"Title","position":1,"values":["Default Title"]}], featured_media: { alt: "Silk and Fleece Throw Blanket", src: "\/\/lifekind.com\/cdn\/shop\/products\/203014_1.jpg?v=1663179968", img_url: "\/\/lifekind.com\/cdn\/shop\/products\/203014_1_{width}x.jpg?v=1663179968" }, url: "\/products\/silk-and-fleece-organic-throw-blanket", mf: { } }; var variants = []; var variant = { id: 12325989679157, available: false, options: ["Default Title"], option1: "Default Title", option2: null, option3: null, price: 16900, compare_price: null, media: { alt: null, src: null, position: null, img_url: "\/\/lifekind.com\/cdn\/shopifycloud\/shopify\/assets\/no-image-50-3d8cc48bd078edcd544c8d60f929ed2d8800a3fc52e0f602e84b1767e392bfcd_{width}x.gif", hover_img_url: "\/\/lifekind.com\/cdn\/shopifycloud\/shopify\/assets\/no-image-50-3d8cc48bd078edcd544c8d60f929ed2d8800a3fc52e0f602e84b1767e392bfcd_{width}x.gif" }, price_html: "\n\u003cdiv class=\"price price--sold-out \"\u003e\n \u003cdiv class=\"price__container\"\u003e\u003cdiv class=\"price__regular\"\u003e\n \u003cspan class=\"visually-hidden visually-hidden--inline\"\u003eRegular price\u003c\/span\u003e\n \u003cspan class=\"price-item price-item--regular\"\u003e\n $169.00\n \u003c\/span\u003e\n \u003c\/div\u003e\n \u003cdiv class=\"price__sale\"\u003e\n \u003cdiv\u003e\n \u003cspan\u003ewas\u003c\/span\u003e\n \u003cspan class=\"visually-hidden visually-hidden--inline\"\u003eRegular price\u003c\/span\u003e\n \u003cspan\u003e\n \u003cs class=\"price-item price-item--regular\"\u003e\n \n \n \n \u003c\/s\u003e\n \u003c\/span\u003e\u003c\/div\u003e\n \u003cdiv\u003e\n \u003cspan\u003enow\u003c\/span\u003e\n \u003cspan class=\"visually-hidden visually-hidden--inline\"\u003eSale price\u003c\/span\u003e\n \u003cspan class=\"price-item price-item--sale price-item--last\"\u003e\n $169.00\n \u003c\/span\u003e\n \u003c\/div\u003e\n \u003c\/div\u003e\n \u003csmall class=\"unit-price caption hidden\"\u003e\n \u003cspan class=\"visually-hidden\"\u003eUnit price\u003c\/span\u003e\n \u003cspan class=\"price-item price-item--last\"\u003e\n \u003cspan\u003e\u003c\/span\u003e\n \u003cspan aria-hidden=\"true\"\u003e\/\u003c\/span\u003e\n \u003cspan class=\"visually-hidden\"\u003e\u0026nbsp;per\u0026nbsp;\u003c\/span\u003e\n \u003cspan\u003e\n \u003c\/span\u003e\n \u003c\/span\u003e\n \u003c\/small\u003e\n \u003c\/div\u003e\u003c\/div\u003e\n\n", mf: { } }; product.selected_variant = variant; variants.push(variant); product.variants = variants;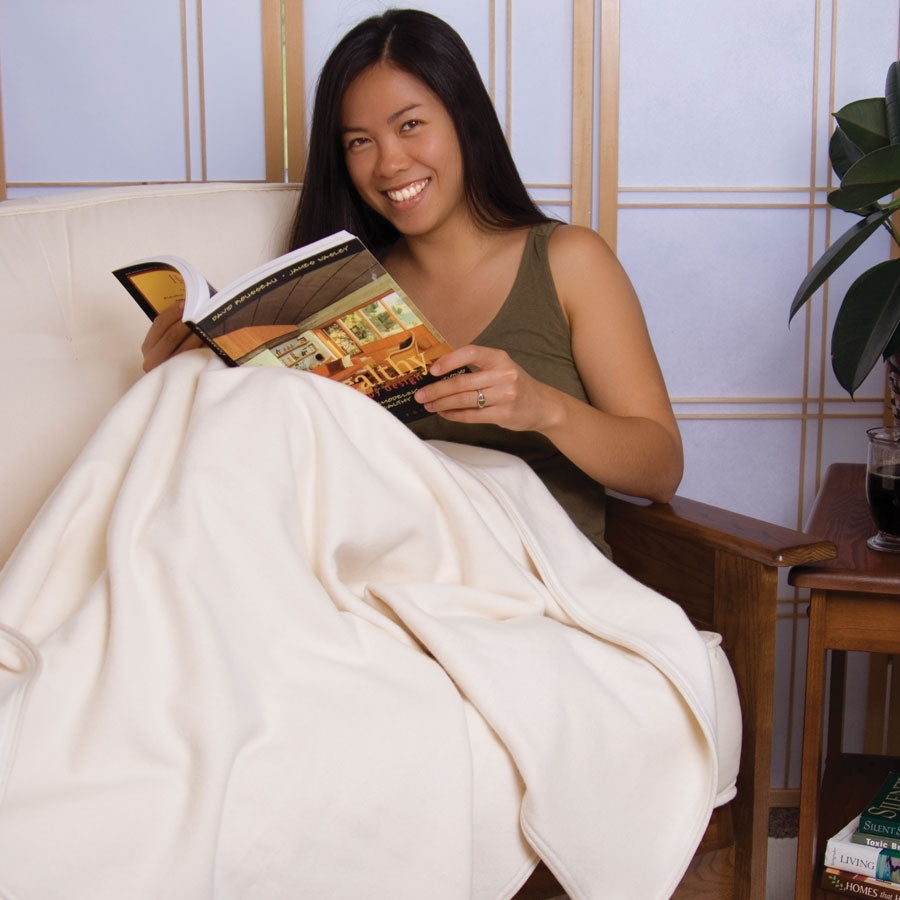 Specifications
Details

Simply the softest and most luscious organic throw blanket ever! This elegant throw is for the most discriminating shopper. Made of baby-soft certified organic cotton fleece and trimmed with undyed white silk. In ivory. Handmade in the USA. (42x55")

This organic blanket is made of organic cotton fleece without any chemical finishing treatments. The texture of your blanket will change slightly, although will remain beautiful over time if you follow these washing instructions:

Machine wash on gentle cycle, using cool (or preferably cold) water and a natural laundry product such as Lifekind® laundry powder or liquid. Do not use detergents, bleaches, or fabric softeners. Tumble dry on low heat until almost dry. While still damp, remove from dryer, lay flat, and smooth out any wrinkles to complete the drying process.

Dry cleaning is not suggested, as it involves the use of toxic chemicals. Instead, look for a cleaning service that practices wet cleaning or a CO2 method.
Care & Use

Machine wash warm
Dry on low
Return Policy

Unused products in new condition may be returned within 30 days of purchase, for a refund or store credit. Exceptions include mattresses, subject to the terms of our 90-day mattress comfort exchange policy, toppers, foundations and box springs, and custom-order products.

Freight charges are non refundable.

Please contact customer service before returning any merchandise, as returns require an RMA.
Certified Organic Materials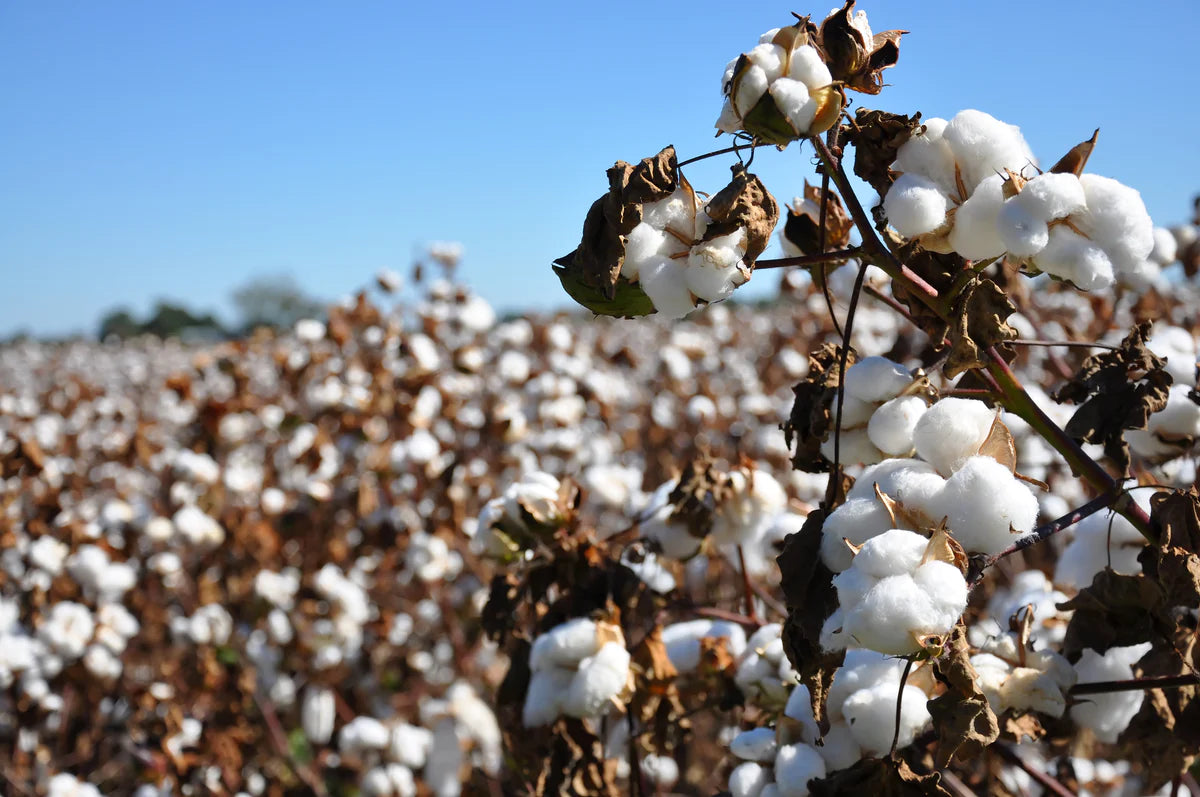 GOTS Certified Organic Cotton
Sustainable: Organic cotton is natural, renewable resource. And by choosing organic cotton, consumers are supporting sustainable agriculture practices that may reduce the negative impact on the environment and protect farmers and their communities.
Soft and Breathable: Organic cotton is naturally soft and also breathable. Cotton fibre allows air to circulate freely, which can help regulate body temperature and prevent overheating while sleeping.
Durable: Organic cotton is a strong and durable material that can last for many years without losing its shape or comfort.
FAQs
Is there an option to pay over time?

When checking out with Shop Pay, you now have the option to pay now or later. Paying in installments on Shop Pay allows you to split your purchase amount into flexible installment payments.* Your first payment is due when you make your purchase.

*Payment options are offered by Affirm and are subject to eligibility check and might not be available in all states. California residents: Affirm Loan Services, LLC is licensed by the Department of Business Oversight. Loans are made or arranged pursuant to California Financing Law license.
Do you offer free shipping?

Qualifying orders ship free to residential addresses within the continental US. Visit the cart page to see if your order qualifies for free shipping.
What is your return policy?

Please read our policy

here

.
Let customers speak for us