Crystallite Deodorant Spray
A pure, natural deodorant that actually works.

var product = { id: 1345701052469, title: "Crystallite Deodorant Spray", available: true, handle: "naturally-safer-crystallite-organic-deodorant", description: "Formulated with the power of potassium alum*, our Crystallite Deodorant Spray naturally inhibits the growth of odor-causing bacteria, providing effective and long-lasting protection. Purified water ensures a smooth application, while the soothing aroma of lavender essential oil leaves you feeling refreshed. Our deodorant spray is gentle on the skin and does not contain any harsh chemicals or artificial fragrances.\n*Do not confuse potassium alum with aluminum. Aluminum compounds are the main ingredient in mainstream antiperspirant deodorants. They block pores and prevent the release of sweat — your body's way of cooling itself. Aluminum is also a known neurotoxin, and is readily absorbed by the body.\nNote: No specific therapeutic claims are made or implied by Lifekind® in the above or in our product descriptions. It is our intent simply to pass along this information for your evaluation.", type: "Personal Care", tags: ["Bestseller","Body","Deodorant","Home","No Returns"], options_with_values: [{"name":"Scent","position":1,"values":["Unscented","Lavender"]}], featured_media: { alt: "Crystallite Deodorant Spray", src: "\/\/lifekind.com\/cdn\/shop\/products\/Deodorant_Both_Group.jpg?v=1639690134", img_url: "\/\/lifekind.com\/cdn\/shop\/products\/Deodorant_Both_Group_{width}x.jpg?v=1639690134" }, url: "\/products\/naturally-safer-crystallite-organic-deodorant", mf: { } }; var variants = []; var variant = { id: 12325988302901, available: true, options: ["Unscented"], option1: "Unscented", option2: null, option3: null, price: 1200, compare_price: null, media: { alt: null, src: null, position: null, img_url: "\/\/lifekind.com\/cdn\/shopifycloud\/shopify\/assets\/no-image-50-3d8cc48bd078edcd544c8d60f929ed2d8800a3fc52e0f602e84b1767e392bfcd_{width}x.gif", hover_img_url: "\/\/lifekind.com\/cdn\/shopifycloud\/shopify\/assets\/no-image-50-3d8cc48bd078edcd544c8d60f929ed2d8800a3fc52e0f602e84b1767e392bfcd_{width}x.gif" }, price_html: "\n\u003cdiv class=\"price\"\u003e\n \u003cdiv class=\"price__container\"\u003e\u003cdiv class=\"price__regular\"\u003e\n \u003cspan class=\"visually-hidden visually-hidden--inline\"\u003eRegular price\u003c\/span\u003e\n \u003cspan class=\"price-item price-item--regular\"\u003e\n $12.00\n \u003c\/span\u003e\n \u003c\/div\u003e\n \u003cdiv class=\"price__sale\"\u003e\n \u003cdiv\u003e\n \u003cspan\u003ewas\u003c\/span\u003e\n \u003cspan class=\"visually-hidden visually-hidden--inline\"\u003eRegular price\u003c\/span\u003e\n \u003cspan\u003e\n \u003cs class=\"price-item price-item--regular\"\u003e\n \n \n \n \u003c\/s\u003e\n \u003c\/span\u003e\u003c\/div\u003e\n \u003cdiv\u003e\n \u003cspan\u003enow\u003c\/span\u003e\n \u003cspan class=\"visually-hidden visually-hidden--inline\"\u003eSale price\u003c\/span\u003e\n \u003cspan class=\"price-item price-item--sale price-item--last\"\u003e\n $12.00\n \u003c\/span\u003e\n \u003c\/div\u003e\n \u003c\/div\u003e\n \u003csmall class=\"unit-price caption hidden\"\u003e\n \u003cspan class=\"visually-hidden\"\u003eUnit price\u003c\/span\u003e\n \u003cspan class=\"price-item price-item--last\"\u003e\n \u003cspan\u003e\u003c\/span\u003e\n \u003cspan aria-hidden=\"true\"\u003e\/\u003c\/span\u003e\n \u003cspan class=\"visually-hidden\"\u003e\u0026nbsp;per\u0026nbsp;\u003c\/span\u003e\n \u003cspan\u003e\n \u003c\/span\u003e\n \u003c\/span\u003e\n \u003c\/small\u003e\n \u003c\/div\u003e\u003c\/div\u003e\n\n", mf: { } }; product.selected_variant = variant; variants.push(variant); var variant = { id: 12892501803061, available: false, options: ["Lavender"], option1: "Lavender", option2: null, option3: null, price: 1200, compare_price: null, media: { alt: null, src: null, position: null, img_url: "\/\/lifekind.com\/cdn\/shopifycloud\/shopify\/assets\/no-image-50-3d8cc48bd078edcd544c8d60f929ed2d8800a3fc52e0f602e84b1767e392bfcd_{width}x.gif", hover_img_url: "\/\/lifekind.com\/cdn\/shopifycloud\/shopify\/assets\/no-image-50-3d8cc48bd078edcd544c8d60f929ed2d8800a3fc52e0f602e84b1767e392bfcd_{width}x.gif" }, price_html: "\n\u003cdiv class=\"price price--sold-out \"\u003e\n \u003cdiv class=\"price__container\"\u003e\u003cdiv class=\"price__regular\"\u003e\n \u003cspan class=\"visually-hidden visually-hidden--inline\"\u003eRegular price\u003c\/span\u003e\n \u003cspan class=\"price-item price-item--regular\"\u003e\n $12.00\n \u003c\/span\u003e\n \u003c\/div\u003e\n \u003cdiv class=\"price__sale\"\u003e\n \u003cdiv\u003e\n \u003cspan\u003ewas\u003c\/span\u003e\n \u003cspan class=\"visually-hidden visually-hidden--inline\"\u003eRegular price\u003c\/span\u003e\n \u003cspan\u003e\n \u003cs class=\"price-item price-item--regular\"\u003e\n \n \n \n \u003c\/s\u003e\n \u003c\/span\u003e\u003c\/div\u003e\n \u003cdiv\u003e\n \u003cspan\u003enow\u003c\/span\u003e\n \u003cspan class=\"visually-hidden visually-hidden--inline\"\u003eSale price\u003c\/span\u003e\n \u003cspan class=\"price-item price-item--sale price-item--last\"\u003e\n $12.00\n \u003c\/span\u003e\n \u003c\/div\u003e\n \u003c\/div\u003e\n \u003csmall class=\"unit-price caption hidden\"\u003e\n \u003cspan class=\"visually-hidden\"\u003eUnit price\u003c\/span\u003e\n \u003cspan class=\"price-item price-item--last\"\u003e\n \u003cspan\u003e\u003c\/span\u003e\n \u003cspan aria-hidden=\"true\"\u003e\/\u003c\/span\u003e\n \u003cspan class=\"visually-hidden\"\u003e\u0026nbsp;per\u0026nbsp;\u003c\/span\u003e\n \u003cspan\u003e\n \u003c\/span\u003e\n \u003c\/span\u003e\n \u003c\/small\u003e\n \u003c\/div\u003e\u003c\/div\u003e\n\n", mf: { } }; variants.push(variant); product.variants = variants;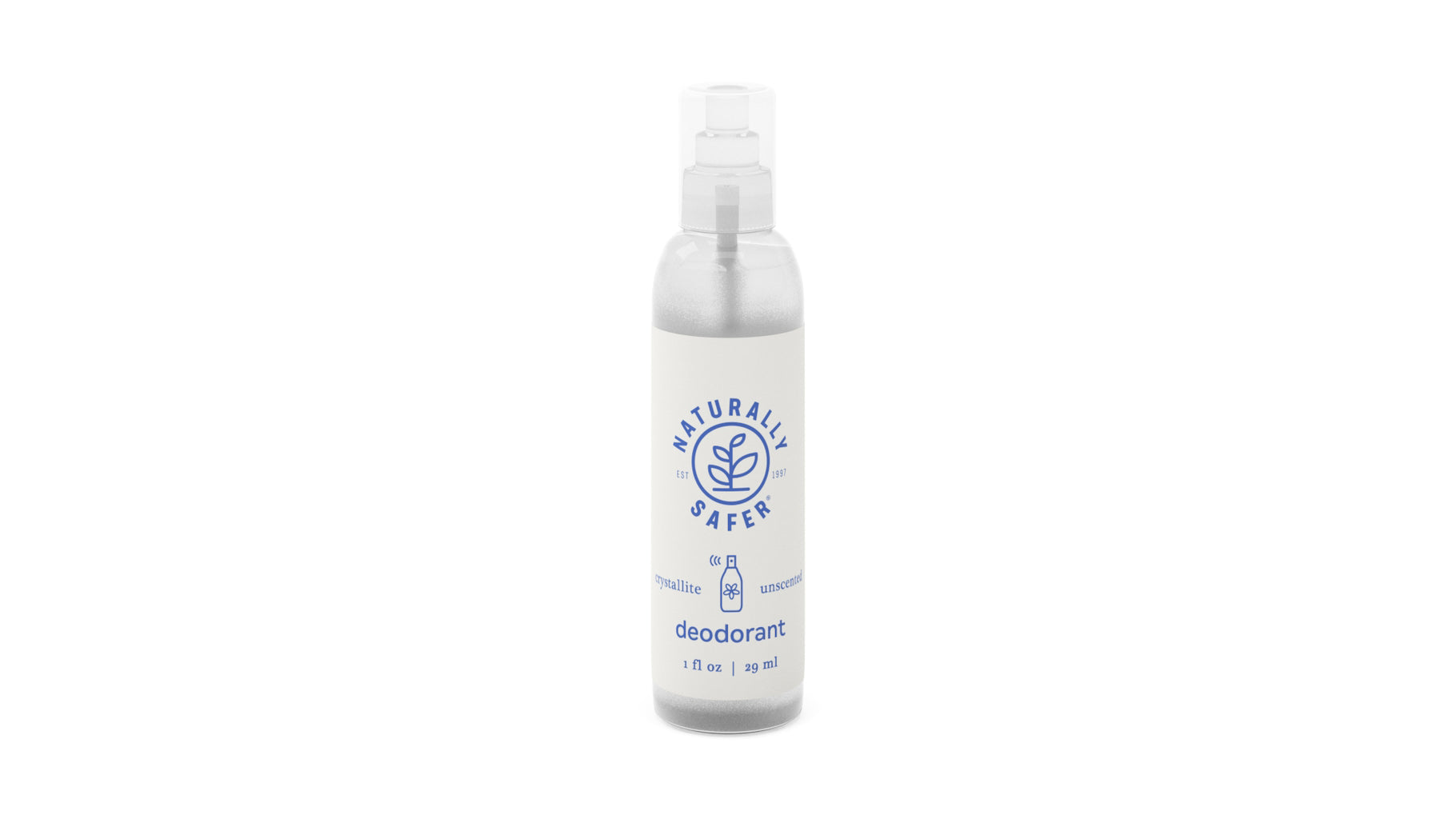 Specifications
Details

Formulated with the power of potassium alum*, our Crystallite Deodorant Spray naturally inhibits the growth of odor-causing bacteria, providing effective and long-lasting protection. Purified water ensures a smooth application, while the soothing aroma of lavender essential oil leaves you feeling refreshed. Our deodorant spray is gentle on the skin and does not contain any harsh chemicals or artificial fragrances.

*Do not confuse potassium alum with aluminum. Aluminum compounds are the main ingredient in mainstream antiperspirant deodorants. They block pores and prevent the release of sweat — your body's way of cooling itself. Aluminum is also a known neurotoxin, and is readily absorbed by the body.

Note: No specific therapeutic claims are made or implied by Lifekind® in the above or in our product descriptions. It is our intent simply to pass along this information for your evaluation.
FAQs
Is there an option to pay over time?

When checking out with Shop Pay, you now have the option to pay now or later. Paying in installments on Shop Pay allows you to split your purchase amount into flexible installment payments.* Your first payment is due when you make your purchase.

*Payment options are offered by Affirm and are subject to eligibility check and might not be available in all states. California residents: Affirm Loan Services, LLC is licensed by the Department of Business Oversight. Loans are made or arranged pursuant to California Financing Law license.
Do you offer free shipping?

Qualifying orders ship free to residential addresses within the continental US. Visit the cart page to see if your order qualifies for free shipping.
What is your return policy?

Please read our policy

here

.
Let customers speak for us